Iran
Zionism, terrorism two sides of same coin: Larijani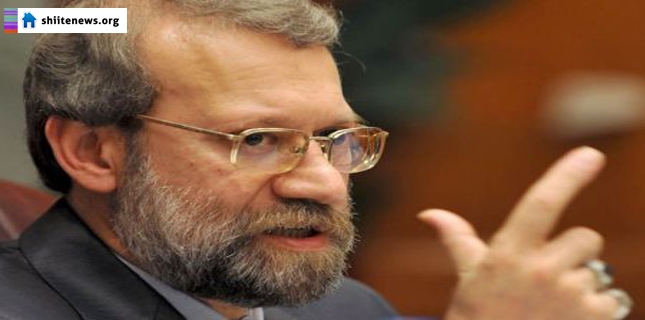 He made the remark at a press conference after the 10th session of the Parliamentary Union of the Organization of Islamic Cooperation (PUOIC), which was held in Turkey from January 20 to 22.
He further said that the Tel Aviv regime is a party to the acts of terrorism in the Middle East.
The Israeli regime benefits the most from divisions and unrest in Muslim countries, Larijani said.
An Israeli airstrike in Syria's Golan Heights on Sunday killed Brigadier General Mohammad Ali Allahdadi, who was a senior commander of Iran's Islamic Revolution Guards Corps (IRGC), as well as six members of Lebanese resistance movement Hezbollah.
The attack was carried out by an Israeli military helicopter, which fired two missiles into Amal Farms in the strategic southwestern city of Quneitra, close to a line separating the Syrian part of the Golan Heights from the Israeli-occupied sector.
Analysts believe the assault was yet another attempt by Tel Aviv to change the balance of war in favor of Takfiri terrorists fighting against Syria.
Fighting terrorism
The main way of countering terrorism in the region is fighting terrorism with righteousness and honesty, Larijani said.
"The weapons in the hands of the ISIL terrorist group have been provided by the intelligence agencies of some foreign countries," the Iranian speaker said.
He referred to the US-led coalition allegedly fighting the ISIL terrorist group in Syria and Iraq, saying the coalition has done nothing "serious" against the Takfiri group.
"The US is not after fighting terrorism; it is, rather, after playing with terrorism," he added.
Since August, the US and some of its allies have been conducting airstrikes against what they say are ISIL positions in Iraq. Some members of the US-led coalition also started bombarding "ISIL targets" inside Syria in September.
However, the raids have so far failed to dislodge the Takfiri group.
The ISIL terrorists control some parts of Iraq and Syria. They are engaged in crimes against humanity in the areas under their control. They have terrorized and killed people of all communities, including Shias, Sunnis, Kurds, and Christians.
Condemning Prophet Mohammad cartoon
The Iranian parliament speaker also condemned the publication of a blasphemous cartoon of the Prophet Mohammad (PBUH) by French satirical magazine Charlie Hebdo, saying some circles in the West seek to promote Isamophobia.
"Insulting the Prophet of Islam is a shame for the West as insulting and blasphemy is a crime," Larijani said, adding, "Sacrilege is a red line for Muslims."
Charlie Hebdo published a cartoon of the Prophet after a January 7 attack on its Paris offices, where 12 people were killed.