Iran
Ayatollah Khamenei: Elections guarantee national interest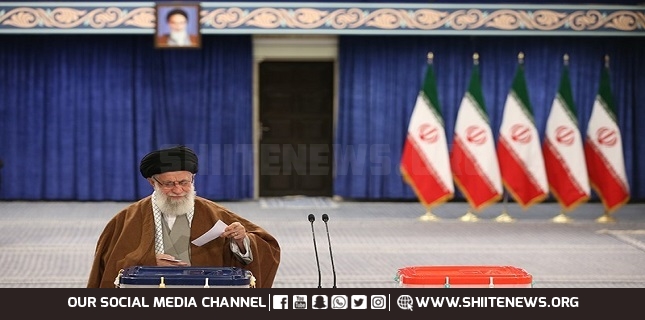 The Leader of the Islamic Revolution Ayatollah Seyyed Ali Khamenei has emphasized that the elections will guarantee the national interest of the country.
"Anyone who is concerned about the national interest of the country must participate in the elections," Leader said.
In the early hours of the elections, Ayatollah Seyyed Ali Khamenei cast his vote into the ballot box and noted, "Firstly, election day is a national celebration, and I congratulate all our dear compatriots across the country. Secondly, it is a day that the nation participates to exercise their civil rights — to exercise their right to vote — and to contribute to administrating the country which is their right. Thirdly, it is a religious duty as it has already been made clear."
The Leader stressed: "My recommendation is that people from all walks of life should come to vote to elect those candidates whom they wish and to do so as soon as possible. This is our usual recommendation to vote as early as possible, preferably in the first half of the day, and not to leave it to the end of the day."
The Leader of the Islamic Revolution urged people to vote in all towns and cities throughout the country for a full set of candidates. In the city of Tehran people will vote for 30 candidates which helps a lot.
He reiterated: "We ask God Almighty to grant the Iranian nation prosperity and goodness and show its mercy to this nation and make the elections a blessing for this country."
Ayatollah Khamenei cast his vote, in early Friday morning in Tehran at the Hussainiyeh of Imam Khomeini where a polling booth — ballot box 110 — is located.
Millions of Iranians are casting their votes to elect new MPs for the 290-seat parliament as well as members of the Assembly of Experts.
Polling stations in 207 constituencies across Iran opened at 8:00 am local time. After the polls close, counting will begin straight away.
Nearly 58 million Iranians are eligible to vote on preselected lists of candidates for Iran's 11th parliamentary elections.
The Iranian Parliament, officially known as the Islamic Consultative Assembly, is a 290-seat legislative body with 207 constituencies. Its members are elected every four years, and former and current members can be re-elected.
On the other hand, the Assembly of Experts of the Leadership is a deliberative body of 88 theologians tasked with choosing the Leader of the Islamic Revolution. Members of the assembly are elected every eight years.