Iran
Iran's President Rouhani: People of region will resist US oppression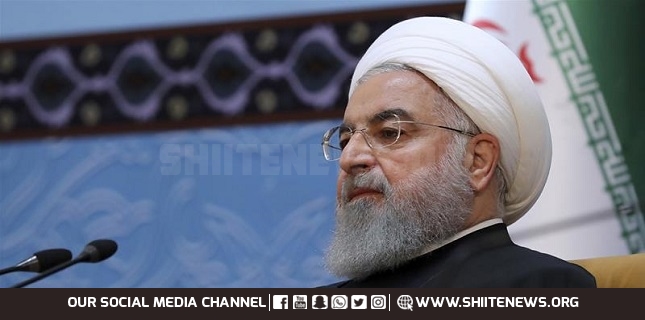 Iran's President has said that the US practices oppression on all of the region's and world people, but people of the region will resist US oppression.
Hassan Rouhani who attended the opening ceremony of the Tehran utility industry projects appreciated the resistance of the Iranian nation against the US sanctions, especially in the two last years.
Rouhani said that the enemy imagine that under its maximum pressure on Iran, the country's progress would be disrupted but just in the last three months 133 water and power projects were inaugurated just in Tehran.
Concerning the US maximal pressure on Iran during the recent two years, he also mentioned that it was unpredictable for the wise people of the world that a government trumpeting the claim of civilization practices such limitless tyranny over the world.
He also pointed to the parliamentary election in the coming month and call on people to take part in it, stressing that the election influences the national, regional, and international policies.
The second phase of Tehran the 7th Water Treatment Plant was opened in the Pakdasht city to provide drinking water to the southern districts of Tehran and the southeastern cities of Tehran province with Iranian President Hassan Rouhani and Energy Minister Reza Ardakanianin attendance.
Iran's President noted that today, after two years of severe sanctions and economic pressure on our beloved people, people are courageously standing the pressures.
He said, "It is true that in these two years, life has been hard and conditions have been unpredictable for all the wise people of the world."
Referring to the US withdrawal of the Joint Comprehensive Plan of Action (JCPOA), Rouhani noted that all the wise people of the world, all the countries, and all the authorities did not think that a government that claims civilization, democracy, and human rights wants to break a treaty and agreement and oppress the great Iranian nation.
"On the other hand, no one thought our people would resist, Rouhani said, noting: "Two European leaders told me that Trump told us to wait three months and that the Islamic Republic would be gone in three months. Those imbecile do not know the region, do not know the Iranian people and do not know how important independence is to our people."
He added: "They do not remember and if they have, they do not want to remain in the historical memory that people have endured years of oppression and despotism and humiliation during the Shah's era and sacrificed all those martyrs. The US, of course, oppress all peoples of the world, and Iraq, Afghanistan, and Yemen. There are few countries in the region that have not suffered their cruelty.
Elsewhere in his remarks, the president referred to the upcoming parliamentary election and noted: "We are on the verge of a major national election. We hope that all of our people will come to the ballot box and participate because this election will affect our regional and global policies and national power."