Bahrain
Bahraini regime forces fire tear gas at protesters in Manama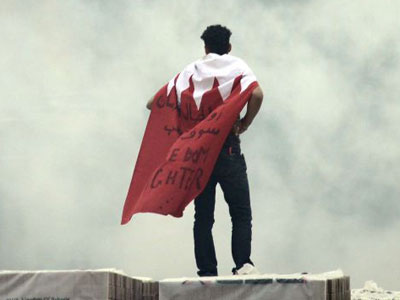 Bahrain's Saudi-backed regime forces have used tear gas to disperse peaceful demonstrators who gathered near Manama to demand the release of political prisoners.
The regime forces attacked the protesters who had taken to the streets of Sanad village, south of the capital in yet another show of defiance against the government.
The protest is seen as part of a fresh wave of anti-government protests by Bahraini people, angered by harsh sentences against jailed human rights activists.
This comes after UN Secretary General Ban Ki-moon condemned harsh sentences, including life imprisonment, handed down to 13 leading Bahraini activists and urged the Al Khalifa regime to observe international human rights laws.
Prominent Human rights figure, Abdulhadi al-Khawaja, and opposition leader, Hassan Mushaimaa, are among those sentenced to life in prison.
Scores of others have been killed, many of them under torture while in custody, and thousands more are held in jail as part of Manama's Saudi-backed crackdown on a popular revolt that started in February 2011.
Bahrainis hold King Hamad bin Isa Al Khalifa responsible for the death and arrest of protesters.