Bahrain
Clashes between Protestors and Security Forces on 7th Anniv. of Sitra Massacre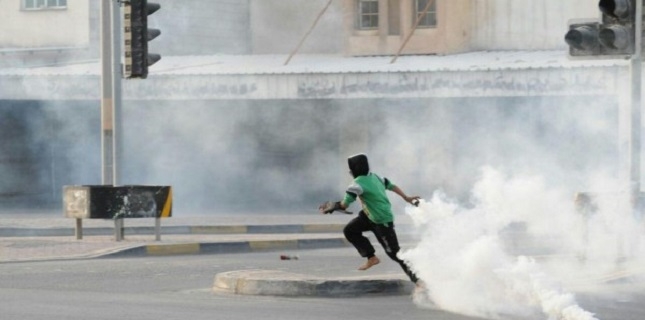 Hundreds of Bahrainis took part in protests in Sitra Island marking the 7th anniversary of the massacre committed by Peninsula Shield Forces that left 3 martyrs and number of injured.
Protestors held anti-regime slogans and demanded the withdrawal of Saudi and Emirati forces from the country. Meanwhile, photos published by activists showed violent confrontations between protestors and security forces that heavily used tear gas canisters and shotgun pellets.
Citizens from another villages met the calls for participating in protests on Thursday (March 15, 2018). Citizens from "Diraz, Karzakan, Ma'ameer, Karana, Bilad Al-Qadeem, Al-Malikiya, Juffair, Manama, Buri, A'ali, Abu Saiba and Al-Shakhoura" as well as Sitra that witnessed crowded protests took part in the protests.
On March 15, 2011, Peninsula Shield Forces participated in storming Diraz Island, leaving 3 martyrs (2 Asians and martyr Ahmad Farhan) and dozens of injured in what has been known as "Sitra Massacre".