Bahrain
Deteriorating health of jailed activists in Bahrain sparks grave concern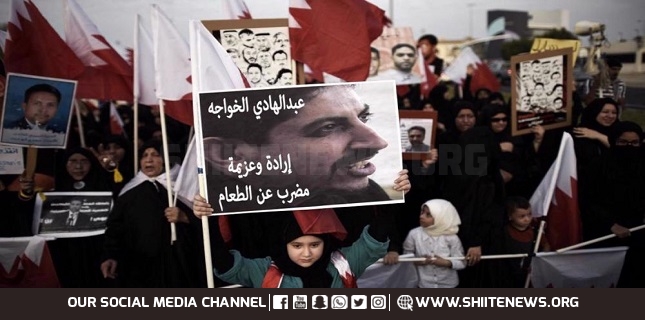 The rapid deterioration in the health condition of two prominent rights activists, Abdulhadi al-Khawaja and Abduljalil al-Singace, who are serving life sentences in Bahraini jails linked to the 2011 uprising has sparked grave concern.
Al-Khawaja, 61, was sent back to prison on February 28 after security forces denied him access to a cardiologist for a serious heart-related complicacy, his daughter Maryam al-Khawaja was quoted as saying in Bahraini media.
The rights activist, who was first arrested and put on trial in 2011 for leading peaceful protests that called for fundamental freedoms in the Persian Gulf country, informed his daughter that he was suffering from breathing difficulties and heart palpitations.
After performing various medical tests, a doctor recommended that al-Khawaja be urgently moved to a cardiologist's care, however, Bahraini security forces "refused to book the necessary appointment," his daughter said.
Maryam said "a plain-clothed man" at the medical facility insisted his hands be cuffed and that he be taken back to prison.
According to his daughter, Abdul-Hadi believes the refusal to book his appointment was done to punish him because he had protested against being chained.
"I am constantly in a state of anxiety waiting for that call that something happened to my father in their notorious prison, and this latest news has now increased my anxiety tenfold," his daughter said, concerned about her ailing father's fate.
She said her father was "dying in their prisons" while the international community, especially the EU and Denmark, was watching it as mute spectators.
"It is freedom-loving people like my father and our family that bear the brunt of the cost of those interests. I do not want my father released to our family in a coffin. We need Bahrain's allies, namely the West, to move before it's too late," she said.
Poor health after 20 months of hunger strike
Meanwhile, activists have raised concern over the health condition of Abduljalil Abdulla al-Singace, another prominent rights defender in Bahrain, as he went on a hunger strike for more than 600 days.
According to his wife, al-Singace is being held in a hospital room that resembles a prison and is administered no medical care.
Bahraini security forces enter the room with weapons several times every day and harass him, she hastened to add, as reported in local media.
According to the wife, al-Singace is standing "firm" and hopes that this hunger and fatigue will be to the benefit of the "welfare of Bahraini people, especially the next generations."
Singace is one of more than a dozen anti-regime protesters who were arrested and convicted on trumped-up charges, including allegedly "creating terrorist groups with a view to overthrowing the monarchy and changing the constitution."
He is a blogger, an academic researcher, and one of the leading resistance figures of the anti-monarchy movement in Bahrain.
Anti-monarchy demonstrations in Bahrain began in mid-February 2011 and have gained momentum over the years. The demonstrators demand that the Al Khalifah regime relinquish power, and a democratic, just system representing all Bahrainis be established in the country.
The unpopular Manama regime, however, has responded to demands for social equality with an iron fist, ruthlessly clamping down on dissent.
On March 5, 2017, Bahrain's parliament approved the trial of anti-regime activists at military tribunals in a measure the human rights campaigners said amounted to the imposition of an undeclared martial law.
The Bahraini monarch, King Hamad, ratified the constitutional amendment on April 3, 2017, bringing about further suppression of political dissent on the tiny Persian Gulf island under the strong influence of the Saudi regime.