Bahrain
Sheikh Daqqaq: School of Martyr Solemani, al-Muahandis in following Quran teachings should fostered in Islamic Ummah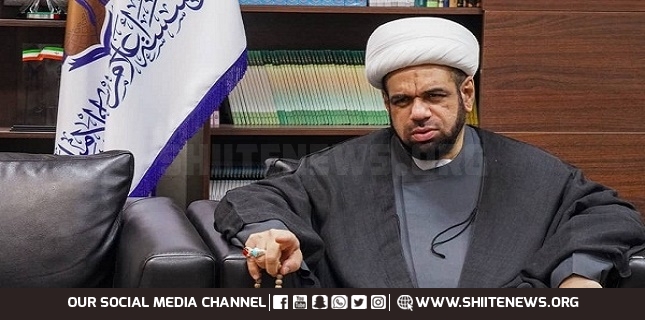 The representative of Bahrain's top Shia cleric Sheikh Isa Qassim in Iran called for promotion of the school of martyred resistance commanders Lt. General Qassem Soleimani and Abu Mahdi al-Muhandis.
Sheikh Abdullah Daqqaq said that the school of the two martyrs in fully following the Quran's teachings should be fostered in the Islamic Ummah.
He said this should be done by holding conferences and seminars as well as cultural events and conducting research studies.
The cleric highlighted the characteristics of General Soleimani and al-Muhandis and said the level of their Ikhlas (purity of intention) and sincerity in their relations with God and the people is the key to their popularity.
These two martyrs demonstrated their genuineness in the battlefields and the power of their Ikhlas attracted the hearts of people, he said.
Sheikh Daqqaq highlighted the two commanders' role in the establishment of Iraq's Popular Mobilization Units (PMU) and in fighting and defeating terrorists in Iraq and Syria, saying they are rightfully known as "commanders of victory".
He said General Soleimani also helped the Palestinian resistance groups in their struggle against the Zionist regime.
According to Sheikh Daqqaq, General Soleimani's assistance to Palestinian groups has contributed to brining the end of the Zionist regime closer.
He also said that martyrdom of the resistance commander started the countdown for an end to the US occupation of regional countries.
General Soleimani, al-Muhandis, who was the deputy commander of the PMU, and a number of their entourage were killed in a strike by American drones near Baghdad International Airport on January 3, 2020.
The White House and the Pentagon claimed responsibility for the assassination of General Soleimani in Iraq, saying the attack was carried out at the direction of US president Donald Trump.
Two days later, on January 5, 2020, Iraqi lawmakers unanimously approved a bill, demanding the withdrawal of all foreign military forces led by the United States from the country.