Asia
42 Shiites injured as police break up religious processions in Indian Kashmir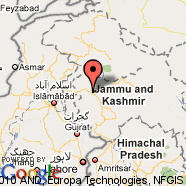 SRINAGAR, India — At least 42 people were injured when police used tear gas and batons to break up religious processions of hundreds of people in the Indian section of Kashmir on Saturday, police said.
Seven police officers were among the injured in the clashes between government forces and mostly Shiite Muslims who gathered in Srinagar, the main city of Indian Kashmir.
The marchers were marking the Muslim month of Muharram, a police officer said on condition of anonymity as he was not authorized to talk to reporters.
 
Large public gatherings in Indian-controlled Kashmir have been banned since the eruption of an insurgency in 1989, but hundreds of marchers defied the ban in four separate processions from the central Lal Chowk district of Srinagar after praying in various mosques Saturday.
Scuffles erupted when police and paramilitary forces tried to stop the marchers. Police fired warning shots into the air and used tear gas and batons to disperse the crowd.
Saturday was the eighth day of the month of Muharram in the Islamic lunar calendar. Muharram is especially important for Shiites, who stage processions to mourn the 7th-century death of the prophet Muhammad's grandson Imam Hussein.
The Himalayan region is split between India and Pakistan, and nearly a dozen rebel groups have been fighting since 1989 for a merger with Pakistan, or for independence from Hindu-majority India. More than 68,000 people, most of them civilians, have been killed in the conflict.