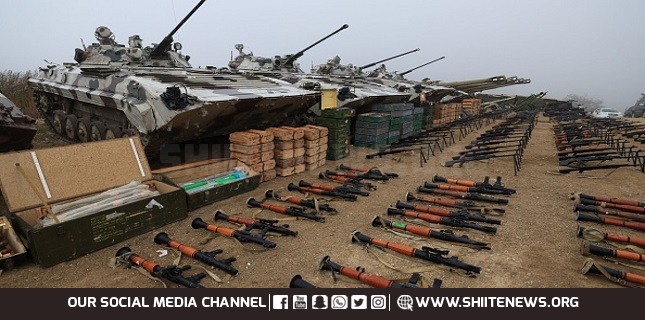 An informed source told Iran Press news agency that the Republic of Azerbaijan returned the Israeli arms that were delivered to Baku as a game changer in the Karabakh war, return back to Israel due to the needs of Israeli Military.The source, who asked not to be named, told Iran Press that, " Before the recent war Nagornon Karabakh, Baku had received a lot of weapons from Israel, some of which were returned due to Israel's need for war in Gaza.
Earlier, the Associated Press reported that Israel had equipped Baku with the most advanced weapons.
The AP wrote in a report on October 5: "Just weeks before Azerbaijan launched its 24-hour assault on Sept. 19, Azerbaijani military cargo planes repeatedly flew between a southern Israeli airbase and an airfield near Nagorno-Karabakh, according to flight tracking data and Armenian diplomats, even as Western governments were urging peace talks.
Israel has quietly helped fuel Azerbaijan's campaign to recapture Nagorno-Karabakh, supplying powerful weapons to Azerbaijan ahead of its lightening offensive last month that brought the ethnic Armenian enclave back under its control, AP cites officials and experts as saying.
It seems that the returning of Israeli weapons to the occupied territories by the Republic of Azerbaijan is due to the fact that, firstly, Tel Aviv urgently needs these weapons, and secondly, Azerbaijan sees itself in a position to help Israel in the war with the Palestinians.
A political and media activist, who is currently residing in Switzerland, also said that some Ulema (Muslim scholars) in Azerbaijan have warned Ilham Aliyev about his leaning toward Zionists.