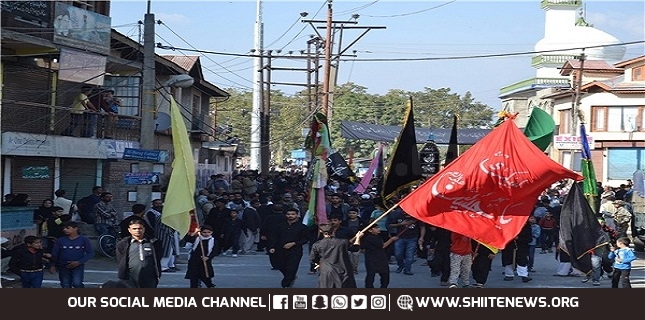 Massive religious gatherings and processions were held in Indian administered Kashmir to commemorate Arbaeen, the day which marks the 40th day after the martyrdom of Imam Hussain (as) and his faithful companions in the desert plain of Karbala some 1400 years ago.
Thousands of Muslims – men and women, young and old – flooded the streets, beating their chests and reciting elegies and hymns to pay tribute to the martyrs of Karbala. Recalling the sacrifice of Imam Hussain, the mourners said the tragedy of Karbala is replete with lessons and its message will resonate for all times to come. They said the sacrifice of Imam Hussain is a beacon of inspiration and a perfect model for the oppressed communities across the globe.
The mourners reiterated that commemoration of the events of Karbala is important to reaffirm pledge to the ideals of Imam Hussain. They said Imam Hussain safeguarded the universal values of humanity, truth and justice.
Voluntary groups distributed water and juice among the participants. Hezbollah Welfare Trust, a non-governmental organization, organized a blood donation camp here.
The participants also hailed the decisive role of Sayyida Zainab as the messenger of Karbala revolution. They said Zainab is the epitome of patience and perseverance who immortalized Karbala revolution.
Mourners who have gathered here say the battle of Karbala is not just an event, but it is an Islamic revolutionary concept; a movement that will always inspire defenders of truth and justice.