Articles
Nexus of anti-Shia plotters, terrorists target Gilgit-Baltistan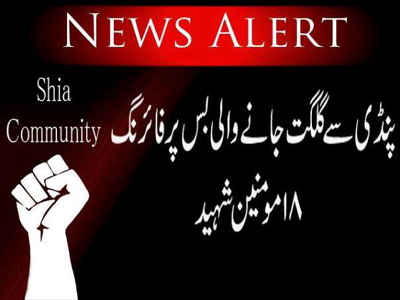 Gilgit-Baltistan is the latest victim of terrorists and fanatics and their local allies. Enemies of Pakistan have formally joined hands with these terrorists. This nefarious nexus poses serious threat to the stability of Pakistan because unity and cohesion of the populace has been put at stake.
The nexus has an organized plot to make these peaceful areas a hub of their terrorist and fanatical activities. The multi-pronged machination includes:
change of demography, creating hatred among the populace through malicious propaganda and terrorist attacks for genocide of Shia Muslims. One more Shia was martyred on Sunday.
"A Saudi-funded terrorist camp has been established in Ghawarhi," Maulana Amin Shaheedi, deputy secretary general of Majlis-e-Wahdat-e-Muslimeen said.
He said 7 million rupees per month was being disbursed on that training centre. Such training camps were established in other areas in the past because the martyr Shia leader Hassan Turabi had sent a letter to relevant higher official authorities in his lifetime about those camps. He was symbol of unity but he too was killed in a suicide attack near his home in Karachi. He belonged to Baltistan.
Ghawarhi where the training camp is situated in Shigar-Baltistan. A rally was staged by the fanatics in that area in which they raised provocative slogans. These fanatics also call Shia Muslims as heathens and their ideology make them allies of Al-Qaeda and Taliban. This is what another aspect of the unholy nexus that exists between terrorists/fanatics and extremists.
How they divided people of Gilgit-Baltistan?
Terrorism and pogrom as mentioned above played a key role in harassing people.
Another aspect of their organized conspiracy is change of demography. Reports had it that efforts are being intensified to change the demography of Gilgit City. Shia Twelvers make majority of the city like whole of the province. People from Khyber Pukhtoonkhwa province (formerly NWFP or simply Frontier i.e. Sarhad in Urdu) are still being brought under a conspiracy to turn Shia majority into a minority.
In Shigar and elsewhere, they benefited from the difference of opinion of two groups of Shia Muslims.
The groups that we talk of are not merely an anti-Shia issue. These terrorists and fanatics have also targeted Sunni Bralevi Muslims and their sacred shrines across the country. Even self-claimed secular people and non-Muslims were hit by these fanatics/terrorists/extremists.
What is to be done?
Their plots are not a new phenomenon. However, by rising of awareness among the masses, people don't take their conspiracies and disgusting activities for granted.
Pakistan's well-wishers and sincere populace should take the case of Gilgit-Baltistan seriously. Why an unjust approach for Shia Muslims genuine grievances and complaints?
Government of Khyber Pukhtoonkhwa that claims to be a follower of liberal, secular and non-violent ideology should stop huge migration that is being carried out under a conspiracy.
Federal and provincial governments make a fool proof plan rid Gilgit-Baltistan of these conspiracies in consultation with Shia Muslims leaderships and scholars. It is obligatory on representatives of Shia Muslims and also those who claim them anti-terrorism, anti-extremism, anti-fanaticism to nip this dirty nexus with their plot in the bud.
No more genocide/massacre or target killings of Shia Muslims. No more pogroms. No more terrorist training camps for terrorism in Gilgit-Baltistan.
Role of Democracy against Foreign Role
There must be no such dirty role in any part of our motherland including Gilgit-Baltistan. Saudi-funded terrorist camp poses a big question to the security establishment and their impartiality. Enemies of Pakistan succeed if such role is allowed to work. Shia leadership should also talk to Chinese government directly like Jamaat-e-Islami did or some other parties make direct contacts and reach agreements for "working relationship."
Gilgit-Baltistan's Chief Minister Syed Mehdi Shah should be asked if he agrees with the sort of relationship some Pakistani groups have established with the Chinese Government. Or would he like to see China to annul all sorts of such agreements that meddle into his affairs. He may be asked if Governor of his province is the chief executive or more powerful than him or he is the provincial chief executive. If he is chief executive that he is, he has a big role to play and he must not be sidelined.