Articles
CNN Fires Editor after Expressing Sadness over Sayyed Fadlullah's Death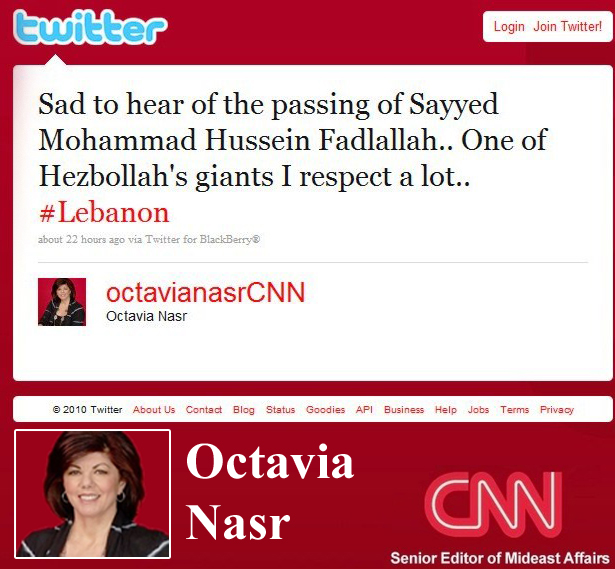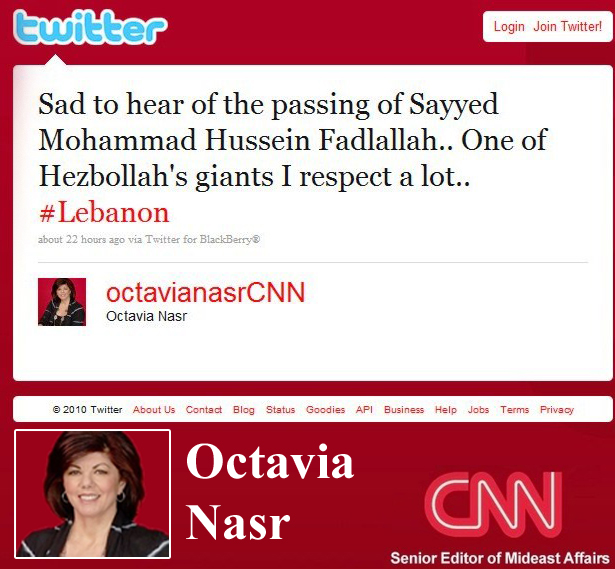 "Freedom of speech" is the first amendment in the US constitution and it prohibits any violation to the freedom of the press. Based on this right, a CNN editor expressed her sadness for the death of Lebanese Shiite cleric Ayatollah Sayyed Mohammed Hussein Fadlullah by posting a simple note on Twitter. However this note led to lose her job as an editor responsible for Middle Eastern coverage.
CNN Channel, one of the most prominent American media, has violated the first amendment after it fired Octavia Nasr for posting a note on Twitter expressing admiration for the late Ayatollah Fadlulah.
Nasr later apologized for her tweet, but CNN's senior vice president for international newsgathering, Parisa Khosravi, said Wednesday that Nasr's credibility had been compromised.
The Atlanta-based Nasr is a Lebanese journalist who worked at CNN for 20 years, starting as an assignment editor on the international desk. Her job was mostly off the air, but she occasionally would appear as an onscreen analyst during discussions of Middle Eastern news.
Grand Ayatollah Fadlullah died Sunday after a long illness and many people and figures from Lebanon and all over the Arab and Muslim world took part in his funeral on Tuesday.
In a Twitter posting over the weekend, Nasr said "Sad to hear of the passing of Sayyed Mohammed Hussein Fadlullah… One of Hezbollah's giants I respect a lot."
Nasr's remarks drew fire from the Honest Reporting media watchdog, which asked on its Web site, "Is Nasr a Hezbollah sympathizer? This is disturbing enough given that the group is designated a terrorist organization by the US and is committed to the destruction of Israel."
CNN issued a statement on Tuesday calling it an error in judgment for Nasr to write such a simplistic tweet.
Nasr later said in a blog that she had been referring to Fadlullah's attitude toward women's rights. His eminence had issued edicts banning so-called "honor killing" of women and giving women their rights as Islam says.
She wrote that Fadlullah was "revered across borders yet designated a terrorist. Not the kind of life to be commenting about in a brief tweet. It's something I deeply regret."
But Khosravi said in a memo Wednesday that she spoke with Nasr and "we have decided that she will be leaving the company."