Articles
Will Idlib-based Terror Group Get US as New Boss?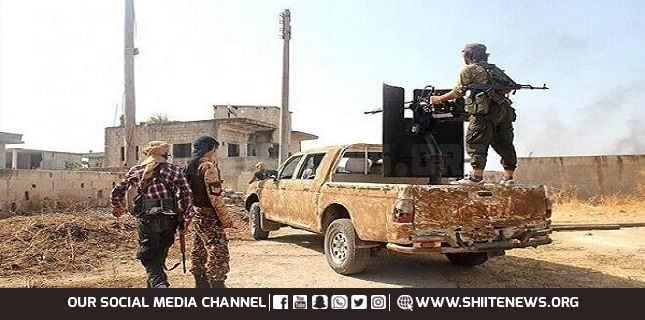 In recent months, there have been different reports about overt and covert clashes among Idlib-based terrorists for maintaining or expanding their realm of rule. The latest published reports suggest that confusion and power struggle have even spread inside the biggest terrorist group in Idlib, namely Hayat Tahrir Al-Sham (HTS), with the state of its terrorist factions described as severely critical and highly prone to outbreak of internal clashes.
In this connection, sources told Al-Arabi Al-Jadeed news that HTS stripped of his powers Maysar Ali Musa Abdullah al-Jubouri, better known by his nom de guerre Abu Marya al-Qahtani, who is one of the distinguished leaders of the group. Reports further said that he was for sometime jailed in Harem town in Idlib, then he was put under house arrest under tight security measures in the headquarters of the terrorist group at the request of Madhar al-Wais, a close friend of him with close ties to judge.
The committee responsible for his case charged al-Qahtani with recklessness in management of his contacts and indifference to his sensitive position and to the need to get necessary permissions or report his communications, and therefore, the committee decided to limit his duties and powers.
The story developed after HTS security chief on Friday arrested an individual, named Abu Yazan al-Dayri, accused of contacts with the US-led international coalition. The arrested man was an individual companion to al-Qahtani and possibly arrest of al-Qahtani took place after the confessions of al-Dayri about contacts of his commander.
This arrest raised the speculation that the next period of the terrorist group will witness major uncertainty, and given the fact that al-Qahtani commands a big branch of the HTS and he was the man who removed the radicals from the movement or curtailed their powers.
Al-Qahtani, the prominent figure of HTS
Al-Qahtani is considered one of the leading figures of HTS. He initially started cooperation with ISIS terrorist group to confront Damascus and after the differences broke out between him and HTS leader Abu Mohammad al-Julani, al-Qahtani moved to Daraa while al-Julani also took Idlib as his new residence. After the agreements signed between the two individuals in 2018, al-Qahtani also moved to Idlib to help manage the terrorist front together, but it seems that the old wound has reopened.
US footprints in Idlib developments
Although official news about al-Qahtani's meeting with the American coalition forces in Syria has not yet been published, this issue shows that Washington has plans for the terrorist group. It is noteworthy that in December 2012, the US put Jabhat al-Nusra, from whose ashes HTS rose, on its terror blacklist, but in the last two years, it has tried to use the power of terrorists to achieve its goals in Syria by getting close to the group's leaders.
In April 2021, James Jeffrey, the former special US envoy to the international coalition, called HTS an "asset" for the American strategy in Syria which should be supported, and during this time, secret meetings between the leaders of this terrorist group and American representatives have taken place. The US, which needs terrorist groups in Syria to continue its occupation, has invested in HTS this time to stymie Syria's full stability.
Given the obliteration of many terrorist groups in Syria and the hard way to revive ISIS, HTS can be the most accessible and operational option for the US to maintain the crisis in Syria, and therefore the leaders of the White House are trying to revise their previous policies and make changes at the top of this takfiri group to pave the way for its unblocking. In the past 12 years, the public opinion and media have had a picture of al-Julani as one of the world's most horrific terrorists, and supporting him can be politically costly for Washington and bring about waves of internal and regional opposition.
HTS was blacklisted when some so-called moderate groups like Western-backed Free Syrian Army were not yet driven out of the Syrian developments. And at present, the Kurdish militia groups cannot properly realize the US interests due to the Turkish sensitivity. Therefore, HTS and ISIS once again fall in the US favor.
To this end, there must be a fundamental review of the past policies, and replacing al-Julani with distinctive figures can help promote the group as a moderate one and hence provide support to it, especially that Turkey as the biggest backer of the Idlib-based terrorists to a large extent distanced itself from them over the past year as part of rapprochement efforts with Syria. One of conditions of Damascus for normalization with Ankara was cutting off support for takfiri groups and helping recapture of Idlib, something HTS regarded as Turkish stab in the back.
Strengthening HTS, together with ISIS sleeper cells, can help perpetuate American plunder of the Syrian oil and gas, and revived insecurity in Syria can force Russia as Syria's ally to redirect part of its military and operational strength from Ukraine to Syria.
The US resorting to HTS comes at a time when Russia and Syria have carried out numerous attacks on the areas under the control of this takfiri group in recent weeks, triggering serious worries of terrorists and the West.
The course of developments indicates that Syrian army, Russia, and the resistance groups intend to eliminate the terrorist groups in Idlib forever with a large-scale operation in the near future, and this can prove costly for Washington which is trying to exploit these groups to re-destabilize Syria. Therefore, the leaders of the White House are trying to block the way of Idlib liberation by supporting HTS, as the takfiris remain Washington's only pressure lever against Syrian government to wrest privileges from Damascus in future talks.
Division in terrorist body
Despite the fact that differences and clashes among terrorists are not new, the deep gaps in HTS leadership has so far been unprecedented, showing that this group is molting.
According to Al-Arabi Al-Jadeed, al-Qahtani arrest has caused disunity and perplexity inside the group as many leaders are opposed to al-Julani's policy and find themselves facing a fate similar to that al-Qahtani and under the risk of arrest under the excuse of interaction with the Western coalition. Activists have speculated that next leader in line to face similar fate is Jihad Issa al-Sheikh.
Sources said that house arrest of al-Qahtani at al-Wais's request was to avoid deeper division until a final solution is found to the case.
Last week, news reported Tahrir al-Sham executed 8 of its members on charges of spying for Russia and the international coalition in Idlib. This gives away deep gap inside the group and that members no longer listen to their leaders.
In recent years, Idlib terrorists have clashed with each other many times, and the serious differences between the senior elements of Tahrir al-Sham show that the former comrades are now lining up against each other, because some of these people have grown dissatisfied with al-Julani's performance and management as they failed to realize their goals and have been idle for years. Therefore, al-Qahtani's meeting with officials from the international coalition shows that other prominent members also want to try their chance for HTS leadership.
Drop in foreign and home support has played a key role in terrorists' tendency to the West.
Idlib people, now seeing themselves hostages to the terrorists, are severely angry with their performance. Idlib and Aleppo suburbs residents in June held a massive demonstration against this terrorist group, once again showing that it has no place among Idlib people.
Losing Turkish support and lacking popular legitimacy, HTS like other terrorist groups seeks a new savior to inject new life in their dying body to live longer.
The HTS drone attacks on areas in the north in recent months were carried out to show off power and to signal to the West that if it supports this group again, they can act as its infantry on the Syrian ground.
Al-Qahtani's arrest marked a major point in HTS life as the group suffered serious division over the past years due to change to its ideology or loyal forces. After conclusion of al-Qahtani case, many purges are highly likely to ensue in the terrorist group's body. These gaps provide Syrian army and its allies with a proper opportunity to root out these terrorists in the country.