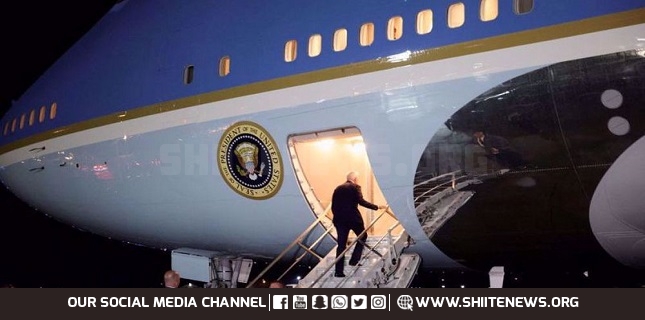 Ahead of his much-hyped visit to Saudi Arabia, the country he once vowed to make "the pariah they are", US President Joe Biden, quite ironically, published an article in the 'Washington Post', whose columnist and dissident Saudi journalist Jamal Khashoggi was dismembered – according to the CIA conclusion – by Saudi crown prince Mohammad Bin Salman's death squad at the Saudi embassy in Turkey in October 2018.
In his article, riddled with inaccuracies and fallacies, Biden justified his visit to the kingdom. He had during the election campaign pledged to make it a "pariah", promised to teach the dictators a lesson, not to supply arms to Riyadh, and to stop the Saudi-led war on Yemen.
Biden has broken all those promises and is seeking to reinforce the so-called Abraham Accords that normalized the Arab-Israeli relationship and amassed the Arab regimes against Iran.
His trip, with the stated goals, is undoubtedly doomed to fail.
Biden said he will be the first American president to fly from Israel directly to Saudi Arabia this week. Pertinently, the former Israeli premier Benyamin Netanyahu made a trip to Saudi Arabia and met with Mohammad Bin Salman in November 2020, in the presence of then-US Secretary of State Mike Pompeo.
The secret relationship between Riyadh and Tel Aviv, many believe, is likely to become official. Saudi Prince Alwaleed Bin Talal was recently quoted as saying that "for the first time", Saudi Arabian and Israeli interests are "almost parallel", terming it "incredible".
Netanyahu also, in his recent appearance, hailed the Saudi crown prince for his role in promoting normalization agreements between Israel and the United Arab Emirates, Bahrein, Morocco, and Sudan."
MBS, for his part, said "Israel is a potential ally", confirming the level of rapprochement between Riyadh and Tel Aviv.
Thus, Biden is not bringing anything new to Israel and Saudi Arabia and won't add to what his predecessor Donald Trump initiated and concluded before the end of his term 18 months ago.
In his article, the US President contradicted himself on many vital points to explain the key objectives of the trip, which will also take him to the occupied Palestinian territories, indicating an apparent confusion and absence of a real strategy.
Biden spoke about the Middle East waterways being "essential to global trade and the supply chains we (the US) rely on". He was essentially referring to one of the main waterways in the region, the Straits of Hormuz, which is controlled by the Islamic Republic of Iran.
It is unclear how Biden would maintain Middle Eastern security and have "a safer Middle East that would benefit Americans in many ways" if the US and its regional allies continue to wage hard and soft war against the Islamic Republic of Iran.
Every US leader sells the same narrative that "Iran is the enemy" to the Gulf States to justify the hundreds of billions of dollars in arms sales, dozens of US military bases spread in West Asia, and the need of the Arab nations to count on the US to confront Iran.
This narrative is no longer profitable for so many reasons: Tehran has extended its hand, holding an olive branch to all the countries in West Asia and inviting them for a peace accord that would prevent the intervention of foreign powers in the region.
Iran has demonstrated its strength against many Israeli, American, British, Greek, and other threats in the Strait of Hormuz, through which 19% of the world's energy travels, and showed how it can confront its enemies in that strategic waterway.
Therefore, the US or its allies in the Gulf can no longer represent any real menace to Iran that has equipped itself with sophisticated missiles and drones (the favorite and primary weapons of any modern war) to defend itself if the need arises.
Quite remarkably, Iran has never attacked any country in its history but has faced attacks. Therefore, the real bras-de-fer between Iran on one side and the Gulf countries and the West on the other side is how Iran managed to reject the US hegemony and spread its areas of influence throughout the Middle East.
Neither Biden nor any of his predecessors or successors will be able to alter the ideologically rooted connection between oppressed people in Palestine, Lebanon, Syria, Iraq, Yemen, Venezuela, and the Islamic Republic.
Also, the harsh sanctions imposed on Iran by the US, from President Jimmy Carter to President Biden – who embraced Trump's sanctions and added more many false pretexts – failed to break Iran's resolve to assert its independence.
Therefore, Biden's narrative to "counter Iran" or "offer US protection to the Gulf countries" is invalid and has already been proven impotent by the Ansarallah resistance movement drones, which regularly evade the US-British interception systems.
Biden's visit is far from starting "a new and more promising chapter of America's engagement" in West Asia. The longstanding Saudi-US relationship dates back to the Saudi kingdom's creation in 1931 and the appointment of the first US ambassador in 1940.
Former Saudi Intelligence Chief Prince Bandar bin Sultan said his country supported the US wars and backed them at Washington's request. That indicated the old and expected Saudi role in the last decades in financing many US wars though unable to secure Congress' budget support.
Saudis supported the US wars in Nicaragua, Afghanistan against the Soviets, and the Israeli war in Lebanon against Hezbollah, to name a few. Therefore, the US-Saudi relationship remains 'business as usual'.
It is pretty apparent what the US President is looking for in Saudi Arabia, a consequence of his detrimental policy affecting the world economy and causing devastating inflation worldwide. The US and western sanctions imposed on Russia dried up their energy supply and left European governments insecure about their energy reserves and industries.
Germany believes 5.6 million Germans will be jobless if Russia permanently halts its 55 billion cubic meters yearly supply of gas to the country through the Nord Stream 1 Baltic Sea pipeline, suspended for a couple of weeks for its usual yearly maintenance.
Indeed, the US-Russian war in Ukraine represents a significant challenge for US unilateralism worldwide. The US traditional and strategic friends have refused to impose sanctions on Russia, which includes Saudi Arabia and the Emirates, amounting to two-thirds of the world's nations.
Saudi Arabia took other steps to diversify its sources of armaments and infrastructure projects by signing "succulent investment contracts" with Russia and China.
The Middle East no longer remains safe since the United States militarily intervened in Afghanistan to oust the Taliban and withdrew after 20 years of futile military adventure. The US has now seized $9 billion in assets belonging to the Afghans, which is poorer than ever.
The Iraqi army was disbanded after the fall of former dictator Saddam Hussein which gave birth to Daesh (ISIS), who, as former US Secretary of State Hillary Clinton admitted, was supported by the Americans with weapons and money.
The US intervened in Syria to overthrow the democratically-elected government after 2011, investing in and training al-Qaeda, which again proved to be a futile exercise.
Also, the US' role in these crises imposed harsh economic conditions hitting Palestine, Lebanon, Syria, Iraq, and Yemen, increasing instability in these countries.
The US is certainly not playing a "vital leadership role for a more stable and integrated the Middle East", as Biden has claimed. Middle Eastern countries can definitely solve their own problems without outside meddling.
There have been reports about Iranian officials meeting with Jordanian and Egyptian officials in Iraq, and several rounds of meetings have also been held between Iran and Saudi Arabia in Baghdad, pointing to the potential of Middle Eastern countries to solve their own problems.
Also, Iran recently agreed to an indirect meeting with the US in Qatar to revive the stalled talks aimed at lifting sanctions. It was a sign that Iran trusts the regional countries more than it trusts the US and Europe.
The United States is not seen as a partner for peace-making, especially by the Palestinians, who saw how the Madrid and Oslo accords were violated and how the US washed its hands of the Palestinian cause.
Biden is coming to the occupied Palestinian territories with $500 million in aid to keep Palestinians alive so they can be killed by the Israeli regime, which "has the right to defend itself" by pre-emptively attacking any country that does not accept Israeli superiority and doesn't bow to the US.
This is the philosophy used over and over again by Washington to justify all Israeli violations of international treaties, human rights, and international borders.
Thus, Biden is not expected to achieve any real purpose during his visit to Saudi Arabia. All his justifications lack validity – except when he said that the Saudi energy resources "are vital in mitigating the impact of the war in Ukraine." This is the bottom line.
The US President is coming to seek help from Mohammed bin Salman in the context of the upcoming Congressional elections (due in November). Biden is offering legitimacy to an autocratic regime and hopes that Saudi Arabia would accept to pump more oil and thus save the US President from the political mistakes that have hurt his country, Europe, and the whole world, causing economic collapse and great discontent among many nations.
Energy prices rose after Western countries imposed unprecedented sanctions on Russia, wrongly believing that Moscow would quickly collapse. The United States thought Russia would be swallowed up in the Ukrainian quagmire. Things have turned around. Russia is teaching a harsh lesson to the European states, who thought that following the US policy and sanctions on Russia, would be an easy ride.
Instead, alarm bells are ringing in the US and Europe as desperate attempts are being made to find alternative energy sources – because no country can replace Russia's energy exports.
To avoid losing ground at home owing to gross mismanagement and inflation, Biden is visiting Saudi Arabia in search of a quick-fix solution. MBS is not expected to send him back empty-handed, nor will he respond to all his energy needs. It would be counter-productive for the Saudis to increase oil exports and lower the oil price worldwide.
However, the Saudis have to deal with Biden for the next two years, and it would not be wise to stand against a President who believed, during his electoral campaign and the last 18 months of his ruling, he could survive without the Saudi help.
The wishful US President will not have it his own way, and another failure is awaiting him back home: he will return from his Middle Eastern visit with very undesirable results.
By Elijah J. Magnier