Articles
Featured
Iraq
Shiite News Exclusive
Finally US incurs Iraqis wrath at embassy in Baghdad after airstrikes
Iraqi President Barham Salih expressed his opposition to the strikes in a telephone call with the U.S. Embassy, calling them "harmful to Iraq and . . . unacceptable.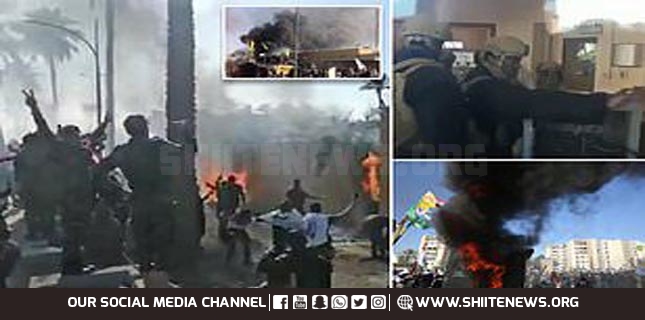 Finally US incurs Iraqis wrath at embassy in Baghdad after airstrikes at PMU volunteers.
US airstrikes killed nearly two dozen volunteers of Kata'ib Hizbollah (KH). However, Assistant to the Secretary of Defense Jonathan Hoffman called it acresponse to repeated attacks on Iraqi bases that host Operation Inherent Resolve (OIR) coalition forces.
He said that U.S. forces have conducted precision defensive strikes against five KH facilities in Iraq and Syria.
Furthermore, he said US strikes would degrade KH's ability to conduct future attacks against OIR coalition forces.
But, Iraqis as a nation, let alone KH, rebuffed US narrative.
Finally US incurs Iraqis wrath
Tens of thousands attended funeral of Hashd al Shaabi volunteers. KH remains an integral part of the Hashd al Shaabi or Popular Mobilisation Units (PMUs).
Duirng the funeral, some thousands took a decisions on their own.
They rushed to heavily guarded US embassy in Baghdad's Green Zone. They vented their anger at the deadly US airstrikes.
Iraqis wrath makes ambassador flee
Only a handful stormed the outer wall, set the building on fire partially. Their wrath compelled the ambassador and diplomatic staff to leave the embassy.
However, US security personnel in the embassy and Iraqi security forces outside the embassy fired tear gas shells to disperse the protest.
But, Iraqis got their protest registered and conveyed to the world the mood of streets in Iraq.
Trump administration is wrong
US President Donald Trump cannot divert world attention from the fact by blaming Iran for anti-US Iraqi nation.
Factually speaking, US airstrikes killed pro-Iraqi government's and anti-Daesh PMU volunteers. As a matter of fact, religious decree from Ayatollah Sistani gave birth to Hashd al Shaabi (PMU).
Moreover, Iraqi government officially requested Iran to seek Iran's help for counterterrorism operations.
Hence, US cannot blame Iraq for PMU nor it can blame Iran itself because legally, Iranian role in Iraq also remains legitimate.
Iraqi government position
At an emergency session of the Iraqi National Security Council, ministers and security officials described what they called a "grave violation" of rules governing the presence of U.S. troops in Iraq, according to a statement issued after the meeting. Iraq will revisit the status of U.S. troops in the country, the statement said.
At the same time, Iraqi President Barham Salih expressed his opposition to the strikes in a telephone call with the U.S. Embassy, calling them "harmful to Iraq and . . . unacceptable," the news agency said. (WP report).
US troops position
Iraq had already expelled US forces under a deal with Obama administration.
But, Trump administration wants to perpetuate the remaining US troops on the pretext of Daesh (ISIS) terror group.
Ironically, Tump himself had declared his predecessor Barack Obama as founder of Daseh.
Conclusion
World people know all these fact. US administration should take its lesson from Tehran embassy takeover and its Islamabad embassy episode. Washington DC must not forget what happened in Lebanon.
The message from Iraq to US once again had it: Leave Iraq and let Iraqis decide their fate.