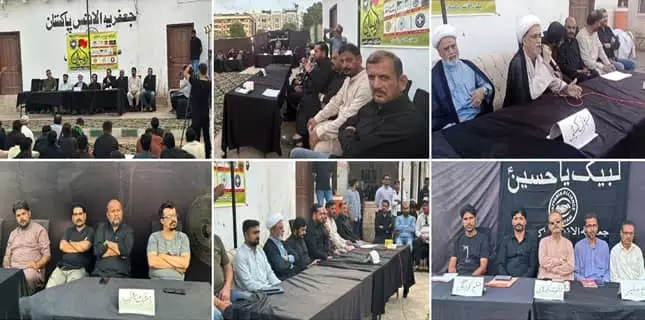 Shiite News: A meeting of Jafariya volunteers was held in Nishtar Park, Karachi under Central Arbaeen Committee Jafariya Alliance Pakistan.
Allama Hussain Masoudi, Allama Aqeel Musa, Syed Shabar Raza, Akbar Ali, Sarwat Rizvi, Shamsul Hasan Shamsi, Maysam Abidi, Ghayoor Abidi and Salman Al Hussaini participated in the meeting.
The representatives of Pak Muharram Association, Scouts Rabta Council, ISO, Markazi Tanzeem e Azza Ad Hoc Committee, Heyyat e Aima Masajid Jafaria Organization also participated in the meeting.
The coordinators of all the districts of Jafaria Alliance in Karachi were also present on the occasion of the meeting of Jafaria Volunteers.
Addressing the meeting, the leaders said that Arbaeen Imam Hussain (AS) will be held with religious enthusiasm and devotion and respect.
The gathering of Arbaeen Hussaini has had an impact before and will continue to have a profound impact, so we also have a dire need to organize our gatherings more and for this, our volunteers can perform the most important role.