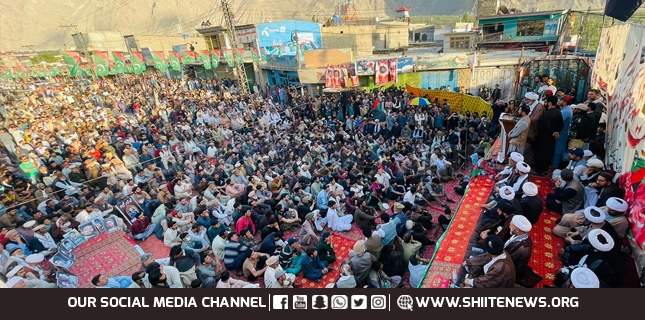 Shiite News: Majlis Wahdat Muslimeen (MWM) Pakistan organized "Azmat Shohada wa Istehkam Pakistan Conference" in memory of the martyrs of Gilgit -Baltistan and Pakistan at Yadgar Shohada.
Addressing the participants of the conference, Chairman MWM Pakistan Allama Raja Nasir Abbas Jafri said that Imam Khomeini is important to us, he defeated the authoritarian forces of the time, according to his thinking, we are the supporters of the oppressed ones.
We are helpful and will continue to struggle for the rights of the oppressed, the deprived. We have sacrificed for this country, killers of more than 20,000 martyrs are still not punished.
This division is against the thinking of two national ideology of Quaid-e-Azam and Allama Iqbal, the people of Gilgit -Baltistan are very sincere and sincere sons of their homeland.
Without GB, this country cannot run for a day, they have no constitutional identity till date. How long will it last, there is no patriot like the people of Gilgit -Baltistan, they are the sons of the homeland, who have been fighting for the constitutional part of Pakistan for seventy years.
He said that independent foreign policy, internal sovereignty, and our decisions should be taken in Islamabad, we do not accept slavery.
It is the desire of every Pakistani and the path and slogan of our martyr leader Syed Arif Hussain Al-Husseini, this is the path of our martyrs.
And this is the way to save Pakistan, we will not bow down to the oppression of any Yazid time. He said that Imran Khan's faith in God is very strong, standing with him for the sake of his country.
The name of Modi and Netanyahu can be named in the media, but why the sons and heroes of the country cannot be named Imran Khan, insulting women, entering homes and the violating of human rights is justice.
Power cannot win from its people, it is legally obligatory for me to follow the constitution and law, and we will always be against the forces who violate the constitution and law.