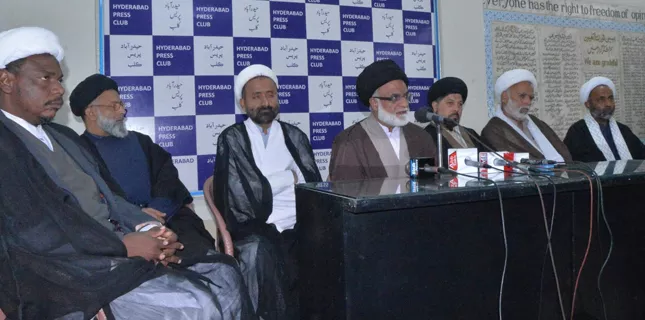 Shiite News: Addressing the important press conference on the controversial amendment bill and blasphemy of the Quran, Hujjatul Islam Allama Syed Hasnain Gurdzi, President of the Majlis-e Ulema Shia Pakistan, said that we do not accept the bill passed in the assembly, it is a takfiri bill which is targeted Only Shia Haider is in agreement and this controversial bill is a conspiracy of internal and external enemies against Pakistan and is a mischief to fuel terrorism, so we reject this controversial bill.
He said that the government is pushing the country towards chaos for their own personal interests on the signals of their foreign masters to distract the public from inflation and to hide their incompetence. Those who insult the Quran were strongly condemned and demanded from the government. It was decided to immediately protest to the Swedish government and raise this issue at the international level.
In the press conference, Allama Syed Alam Shah Mousavi, member of the supervision of Majlis Ulema Shia Pakistan, Allama Syed Baqir Abbas Zaidi, President of MWM Sindh Province, Allama Raza Muhammad Saeedi, Leader of MWM Sindh Province, Allama Abdullah Mutahari, President of Majlis Ulema Shia Sindh Province, Allama Agha Muhammad Qumbrani. General Secretary MWM District Hyderabad, Maulana Gul Hasan Murtazvi Sr. Vice President Majlis Wahdat Muslimeen District Hyderabad participated.