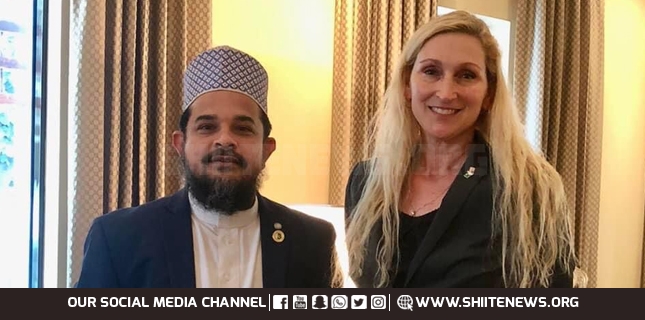 Shiite News: American diplomat Consul General in Karachi Nicole Theriot has given a special task to an agent named Ehsan Siddiqui for anti-Palestine and Kashmir activities in Karachi.
A renowned journalist told the sources on the condition of anonymity that a person named Ehsan Siddiqui, a resident of Karachi, along with some other people had a special meeting with Consul General Nicole Theriot at the American Consulate General.
The journalist revealed that in this meeting he was given the task of suppressing the Palestine issue in Pakistan and setting up a program in favor of Israel in Karachi.
The American woman diplomat has instructed in the meeting that lobbying for Israel should be done in Pakistan.
The American woman diplomat has indicated to spend a handsome amount of money for this work.
It should be noted that Ehsan Siddiqui, a citizen of Karachi, has visited Israel in the past with Anila Ali, a woman of Pakistani origin who holds American citizenship, and has also been present in meetings with top Israeli officials, including Mossad officials.
The news sources have further said that in the past American diplomats have been involved in various espionage operations against Pakistan and in the past former Federal Interior Minister Rehman Malik has also brought on record about such secret exercises of American diplomats.
It is very important that Pakistan, which does not recognize Israel, take its citizens to Israel and then assign Pakistani citizens to support Israel in US embassies, which is a violation of diplomatic etiquette and laws.
Israel has been occupying the holy land of Palestine since 1948 and is the source of terrorism in the region along with killing thousands of Palestinians.
Quaid-i-Azam Muhammad Ali Jinnah had rejected the establishment of a Jewish state in Palestine before the establishment of Pakistan regarding the partition plans of Palestine and had made a principled decision not to recognize Israel after the establishment of Pakistan, on which Pakistan still stands today.