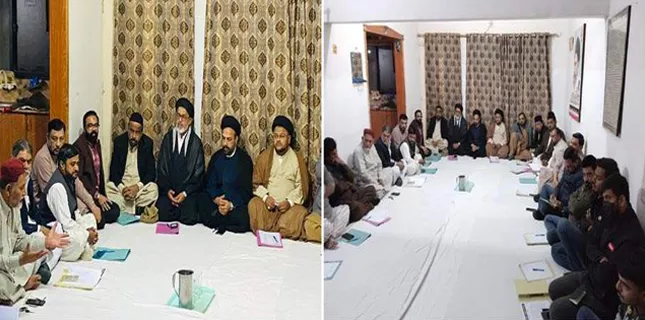 Shiite News: A joint emergency meeting of Shia organizations/institutions was held under the chairmanship of Divisional President Allama Hasan Raza regarding the controversial amendment bill passed by the National Assembly.
The representatives and leaders of the institutions participated fully and expressed their opinion regarding the controversial bill.
On this occasion, the representatives unanimously rejected the controversial bill calling it a deep conspiracy against Pakistan and announced the strategy and effort.
Shia Ulema Council Pakistan Central Additional Secretary Allama Syed Nazer Abbas Taqvi, Central Vice President Hasnain Mehdi Rizvi specially participated in the meeting.
In his opening remarks to the participants of the meeting, Provincial President Allama Asad Iqbal Zaidi said that the controversial Criminal Amendment Bill is definitely a conspiracy against the country.
Many prominent personalities have been killed, in such circumstances this controversial bill is once again like giving free hand to extremists.
Central Additional General Secretary Allama Syed Nazer Abbas Taqvi while talking to the participants of the meeting said that without specifying and clarifying the definition of insult and other titles, its limits and limitations, any kind of legislation imposed is one-sided and biased thinking on the people.
He further said that this amendment will prove to be very dangerous for the internal security of the country and any such legislation can lead to unrest, chaos, and division in the society.
In the meeting, leaders of the Shia Ulema Council, Allama Nazer Abbas Taqvi, Hasnain Mehdi, Allama Syed Asad Iqbal Zaidi, Allama Kamran Abidi, Allama Abbas Mehdi Turabi, Kausar Raza, Ali Naqvi, Shafaat Pahlwani, Advocate Muhammad Ali Bukhari, Heyyat Masjid Imamia Allama Razi Haider Zaidi, Sarwar Ali of Pak Muharram Association, Muhammad Naqi of Markazi Tanzeem-e-Azadari Pakistan, Shamsul Hasan Shamsi of Tanzeem-e-Aza, Allama Mubasher Hassan of Majlis Wahdat Muslimeen, Shabar Raza of Jafaria Alliance, Allama Nisar of Majlis Zakreen Imamia Ahmad Qalandri, Basheer Hasan Karbalai of Khadim Imam Hussain, Muhammad Raza Rizvi of Imamia Organization, Mohsin Wasti of Jafaria Students Organization, Sarosh Zaidi of Imamia Students Organization, Razi Rizvi of All Pakistan Shia Action Committee, Hasan Sagheer of Jafaria Organization Pakistan, Athar Hussain. Jafari, Shia Democratic Party advocate Rashid Rizvi and others participated.