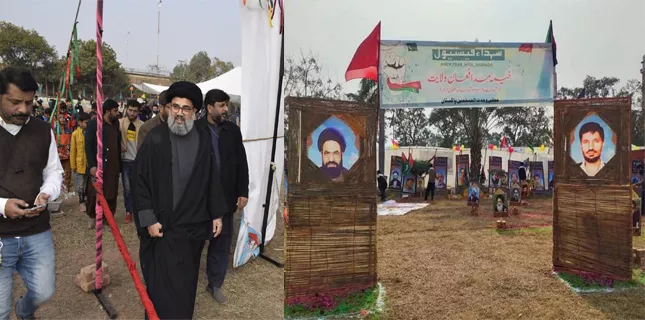 Shiite News: (Report: T.H Shahzad) The second annual martyrdom festival was held on Sunday, January 22, 2023, at Firdosia Cemetery, Ferozepur Road, Lahore.
The atmosphere of the cemetery was full with spiritual activities. Through various activities, the martyrs were paid tribute and the lovers of the martyrs were informed about the martyrs.
On this occasion, a stall having the Holy Quran, the tent of the martyr Millat Jafariya Pakistan, the tent of Kaneezan-e-Zahra and Tiflan, the tent martyr's defenseman (the forces of Pakistan and APS) and the Jannat-ul-Baqee and the tent of defenders of Wilayat were organized.
In addition, Kids Corner was also organized for effective activities for children. Each tent paid tribute to the services and affairs of the martyrs in their unique way.
One of the targets of this festival was to start the year with the name of martyrs. Which was held with the slogan of "New year with Shohada".
The families of several martyrs attended the festival, which was welcomed. Son of Shaheed Allama Arif Hussain Al -Husseini, son Shaheed Dr. Syed Muhammad Ali Naqvi Salman Naqvi and Dukhtar Shaheed Dr. Khanam Syed Zahra Naqvi, Dukhtar Shaheed Ustad Sabat Jafar, Parents Shaheed Ammar Naqvi, Parents Shaheed Yasser were famous.
In the program, the Imamia Scouts saluted the martyrs and families of the martyrs, after which Muzam Ali Mirza and Shahid Ali Shahid offered a gratitude at the end and offered greetings to Imam Zaman (aj).
Al -Tanzil Pakistan, Shaheed Foundation, Idara Jamaran Lahore, Majlis -e -Wahdat Muslim Pakistan, ISO (Students), Noor Sulaimani Team, Jamia Ba'ath, Khawajaan forum and Dasta Abu Talib also took part. In addition, students from Quranic centers and madrassas across Lahore participated.
All the institutions and platforms jointly revived the vision of all the martyrs who continued to access the divine goals to the last drop of their blood, and the appearance of Imam Zamana (aj).
The Martyrs' Festival is the best way to remember these martyrs and raise the knowledge of Imam Zamana (aj).
Lovers of the martyrs participated in a large number along with families and children, and pledged to transfer the flag of support of Imam Zamana (aj) through the cognition of the martyrs.