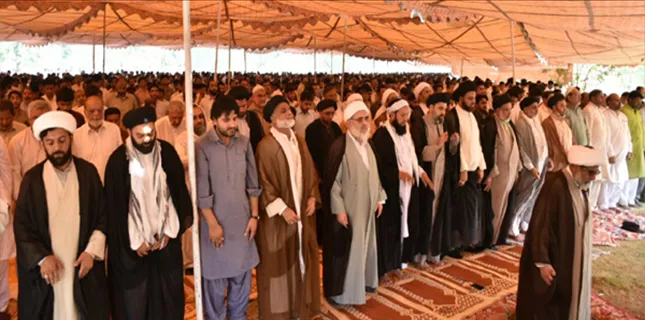 Shiite News: The controversial Criminal Amendment Act 2021 based on the promotion of communal hatred and religious extremism passed by the National Assembly has been strongly rejected by Imam-e- Juma Imamia across Pakistan.
On the appeal of Shia Ulema Council, Majlis Wahdat Muslimeen and Majlis Shia Ulema Pakistan, last day, Imam Juma in Friday prayer gatherings held across the country including Karachi, Lahore, Islamabad, Quetta, Gilgit, Skardu, Peshawar, Multan, Parachinar called the Criminal Amendment Act 2021 (Namoos Sahaba Bill), which ignited sectarianism in the streets of Pakistan, as a serious conspiracy against national security and country's stability and demanded its immediate repeal.
The preachers said that the definition of desecration of sacred already exists in the Sharia, the law of punishment is the same as that defined in Islam, but it is necessary to determine the sacred persons and their limits.
Such characters and figures of Islamic history who have stood against the caliphs themselves, have fought wars with them, have done oppression on the Ahl al-Bayt Rasulullah (SAW), have usurped their rights, and martyred them, how holy and honorable ??
The speakers demanded the government to immediately end this controversial law, the members of the Senate were also requested not to allow this black law to be passed, if this law is implemented, how many more innocent people will be killed or put in jails. Against whom false accusations of insolence or insult will be made due to personal differences.
The speakers further said that even before this law in Pakistan, it has been misused many times, the murder of Salman Taseer, the murder of Sri Lankan citizen Priyanthakumara in Sialkot, the murder of Asia Bibi, the murder of Mushtaq Ahmed son of Bashir Ahmed in Khanewal, murder of 57-year-old Tahir Ahmad Naseem in Peshawar, the brutal murder of Mashal Khan, a student of the Department of Communication at Abdul Wali Khan University in Mardan in 2017, are clear examples of this, while hundreds of Shia youths were also put in jail on false charges of insulting the companions.
Speaking in Jumma sermons further said that narrating the historical facts related to a Sahabi or removing the veil from their deeds does not fall under the category of insulting the Sahabi, nor does the Muhammadan Sharia punish a Sahabi with death or imprisonment.
If this is the case, the first ones to this day are Muawiyah Ibn Abi Sufyan and Yazid Ibn Muawiyah, who used to curse from 70,000 pulpits against Hazrat Ali Murtaza AS, the fourth Caliph of the Ahle Sunnah, who fought against him, who killed his family and his family, they should be taken out of the graves and flogged.