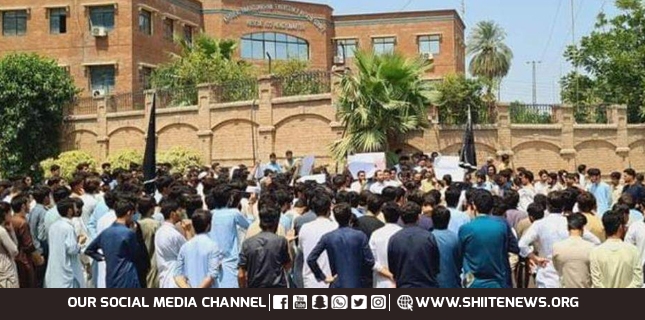 Shiite News: MWM and ISO demanded the public hanging of 'blasphemer of Ahlul Bayt' Sultan Gul S/o Eid Muhammad on Wednesday.
A protest demonstration was held against 'blasphemer malhoon Sultan Gul' by MWM Peshawar and ISO Peshawar Division, at Press Club Peshawar.
Addressing the protestors, MWM leader Syed Alam Shah said that Parachinar is a very sensitive area, where the culprit has directed derogatory remarks against Bibi Syeda Sakeena Bintul Imam Hussain AS and Imam Khomeini R.A.
Speakers emphasized to ensure decisive and demonstrable action against responsible for making derogatory remarks which hurt the sentiments of nation.
They demanded a contempt of religion case against culprits involved, according to articles PPC 124A,295A,298A as it shows insult, disrespect and blasphemy.
As the culprit has published the blasphemous video on social media pages, law enforcement authorities especially cybercrime wing of FIA urged to take a strict action and arrest the blasphemer through interpol from Dubai.
Imamia Jirga leader Muzzafar Ali Akunzada, Inayat Turi and representative of Ahlysunnat of Parachinar Abdul Khaliq Pathan also addressed the protest rally.