Featured
Saudi Arab
Saudi regime slowly killing prominent dissident cleric Sheikh Hussein al-Radi in prison: Rights group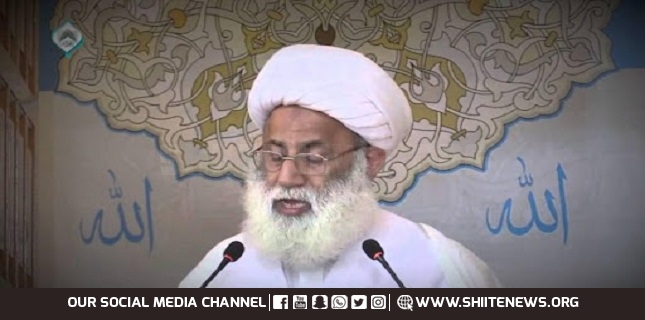 Dissident Saudi cleric Sheikh Hussein al-Radi is 'being killed slowly in prison,' as the regime in Riyadh has deprived the gravely-ill Shia clergyman of necessary treatment, a rights group has revealed.
The Saudi regime has detained the prominent cleric several times before, the last of which was in March 2016, when he was arrested over his condemnation of the Saudi-led campaign against Yemen. The detention also came after the senior cleric wrote an article in which he lambasted the House of Saud for jailing and executing critics and dissidents, including Sheikh Nimr Baqir al-Nimr, who was beheaded by authorities in January 2016.
In August 2017, the Specialized Criminal Court in Riyadh sentenced al-Radi, who lived in the al-Ahsa oasis region of Eastern Province, to 13 years in prison over his harsh criticism of the regime and his repeated calls for stopping the much-condemned war, which has left hundreds of thousands of Yemenis dead, and displaced millions more.
The senior cleric had also strongly denounced a decision by the Saudi-led [Persian] Gulf Cooperation Council to brand Lebanon's resistance movement Hezbollah as a terrorist organization.
On Sunday, the (Persian) Gulf Institute for Democracy and Human Rights (GIDHR) tweeted that "the detained Sheikh Hussein Al-Radi is being killed slowly as he is deprived of receiving the necessary treatment despite the many diseases he suffers from."
"He was arrested in 2016 over his calls to stop the war on Yemen," it added.
Saudi Arabia has been widely denounced by rights groups for its grave human rights abuses and harsh crackdown on all forms of dissent. Backed by the United States and regional allies, the regime launched the war on Yemen in March 2015, with the goal of bringing the former Saudi-friendly government back to power and crushing the popular Ansarullah movement. The war has destroyed Yemen's infrastructure and spread famine and infectious diseases. Riyadh has been under fire from international organizations and rights groups over the rising number of civilian casualties in Yemen.
The Shia-dominated Eastern Province has been the scene of peaceful demonstrations since February 2011. Protesters have been demanding reforms, freedom of expression and the release of political prisoners. They want an end to economic and religious discrimination against the region.
Shia Muslims have long complained of entrenched discrimination in a country where the semi-official Wahhabi school condones violence against them. They face abuse from Wahhabi clerics, rarely get permits for places of worship and seldom get senior public-sector jobs. Shia religious centers have also been the target of a series of terror attacks across the region over the past few months. They accuse the authorities of unfair detentions and punishments, shooting unarmed protesters and torturing suspects.