Yemen
Yemeni Ansarullah snipers kill three Saudi troops in Najran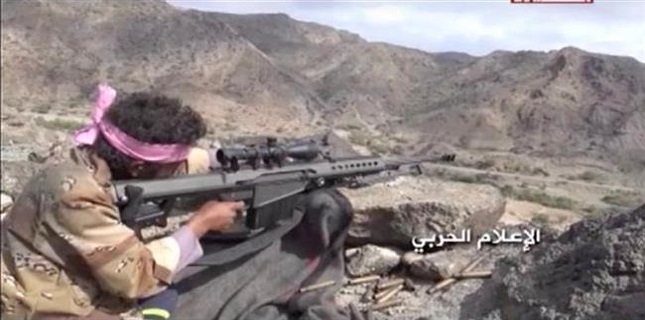 Snipers of Yemen's popular Houthi Ansarullah movement have killed three Saudi troops in the kingdom's southern regions.
Yemen's al-Masirah television network reported on Wednesday that the Saudi soldiers were killed during Yemeni operations in the Najran region.
A large number of Saudi forces and mercenaries were also injured in the Yemeni attack.
Earlier in the day, the Yemeni military announced that at least 82 Saudi forces were killed and 41 injured in the Saudi provinces of Jizan, Najran and Assir in April.
It also noted that 55 were killed and 53 wounded in March.
Meanwhile, the Ansarullah movement announced that it would be increasing its strikes on Saudi Arabia's oil facilities in retaliation for the kingdom's war on its impoverished neighbor.
Mohammad al-Bukhaiti, a top figure in the movement's Supreme Political Council, told The Financial Times that the fighters were manufacturing their own missiles, dismissing Riyadh's accusation that Iran was delivering the projectiles to the fighters.
On Saturday, the Houthis fired eight missiles at a number of "economic and vital targets" in the southwestern Saudi region of Jizan. Yemen's Arabic-language al-Masirah television network cited a military source as saying that the projectiles hit their targets with great precision.
Bukhaiti said the counterattack "was only the beginning of the response" to the killing of Saleh al-Samad, the head of the Supreme Political Council assassinated by Saudi forces last week.
So far, the Houthis have successfully hit facilities belonging to the Saudi state oil giant on many occasions.
The Saudi aggression was launched in March 2015 in support of Yemen's former Riyadh-friendly government and against the Houthi Ansarullah movement, which has been running state affairs in the absence of an effective administration.
The offensive has, however, achieved neither of its goals despite the spending of billions of petrodollars and the enlisting of Saudi Arabia's regional and Western allies.
The Yemeni Ministry of Human Rights announced in a statement on March 25 that the Saudi-led war had left 600,000 civilians dead and injured during the past three years.
The United Nations says a record 22.2 million people are in need of food aid, including 8.4 million threatened by severe hunger. A high-ranking UN aid official recently warned against the "catastrophic" living conditions in Yemen, stating that there was a growing risk of famine and cholera there.