Yemen
Yemeni ballistic missile targets Saudi base in Najran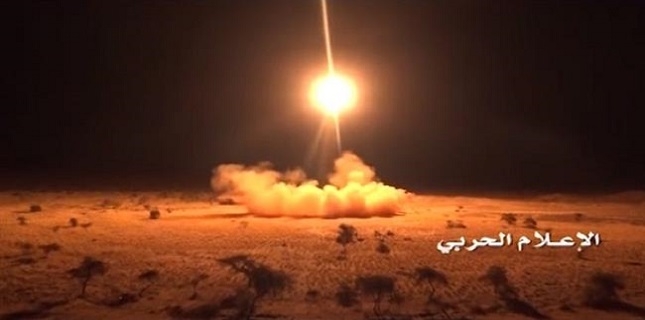 Yemeni forces have fired a domestically-manufactured ballistic missile at a military base in Saudi Arabia's southern border region of Najran in retaliation for the Saudi-led military strikes against their country, Yemeni media report.
Yemen's Arabic-language al-Masirah television network reported, citing a military source, that the al-Sadis military base had been targeted with a short-range Zelzal-2 (Earthquake-2) missile on Wednesday evening.
The report said that the projectile targeted a gathering of Saudi soldiers and mercenaries in the base.
There was no immediate word on the exact number of casualties.
Saudi Arabia often claims that it intercepts incoming Yemeni missiles, but a close study of evidence by The New York times last year clearly suggested that in one of the most high-profile of such Yemeni missile attacks, the projectile — launched deep into Saudi territory — had in fact landed unimpeded, bypassing American-made Patriot missiles and potentially other defenses used by Riyadh. Saudi Arabia claimed that it had foiled that attack, which targeted the Riyadh airport.
On Monday, the Yemeni army said that it had launched two domestically-made short-range Badr 1-type missiles at the Saudi Aramco oil facility in the Saudi border province of Jizan. Saudi Arabia claimed — as is its wont — that the country's air defenses had intercepted and destroyed both projectiles over the skies above the region.
Yemeni forces regularly fire ballistic missile at positions inside Saudi Arabia in retaliation for the Riyadh-led military campaign on Yemen.
Additionally on Wednesday evening, the Yemeni forces managed to destroy a Saudi-led coalition tank in Yemen's western coast, al-Masirah said in a separate report.
Meanwhile, Yemen's official Saba news agency, citing an unnamed military official, reported that the sniper unit of Yemen's allied Popular Committees either killed or wounded at least 13 Saudi mercenaries in different localities of the western coast, the northern province of Jawf, and Sirwah district in the central province of Ma'rib.