Yemen
UAE-backed ex-officials in south Yemen brutally abuse migrants: HRW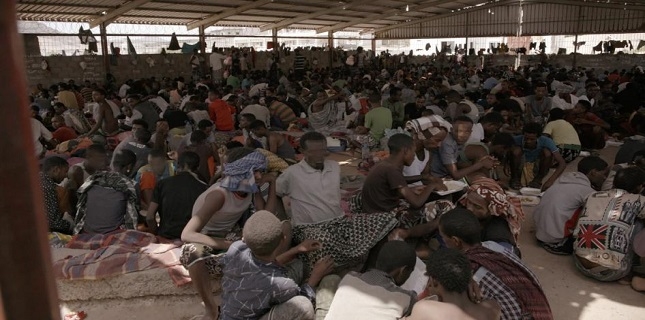 Human Rights Watch (HRW) has revealed that Yemen's UAE-backed ex-officials based in Aden detain and brutally abuse African refugees passing through the war-torn country's southern port city.
The New York-based rights group reported on Thursday that the former Yemeni officials controlling Aden "torture, rape and execute" the refugees from the Horn of Africa in a detention center and forcibly deport them out to sea.
"Guards at the migrant detention center in Aden have brutally beaten men, raped women and boys, and sent hundreds out to sea in overloaded boats," said Bill Frelick, refugee rights director at HRW.
Several hundred Ethiopians, Somalis, and Eritreans have been held at the detention center since 2017, the group said.
Separately, the UN refugee agency (UNHCR) also reported the detention, abuse and forcible deportation of refugees in Yemen, without specifying the location.
"Survivors have described to UNHCR being shot at, regular beatings, rapes of adults and children, humiliations including
forced nudity, being forced to witness summary executions, and denial of food."
HRW also accused Yemen's Houthi movement of arbitrarily detaining refugees in poor conditions and failing to provide access to asylum and protection procedures in the port city of Hudaydah.
The Houthi movement has been running state affairs and defending Yemen against the Saudi-led aggression, which is meant to reinstall the former Riyadh-friendly administration.
Yemen's southern regions are mostly controlled by UAE-backed militants loyal to the former government.
Those areas have become a fertile ground for smugglers who vow to transfer refugees from the region to wealthier Arab states in the Persian Gulf. Most of them, however, leave the refugees at sea.
The United Arab Emirates is Saudi Arabia's key partner in its deadly war against Yemen, which has so far killed and wounded some 600,000 people, according to the latest figures.
Besides playing a significant part in aerial assaults and deploying troops to Yemen, Abu Dhabi has been training the pro-Saudi militants fighting on the ground against Yemeni armed forces.
The UAE also stands accused of running secret jails in southern Yemen, where the detainees are said to be facing brutal torture and abuse.