Yemen
'Yemen preparing to attack Houthis'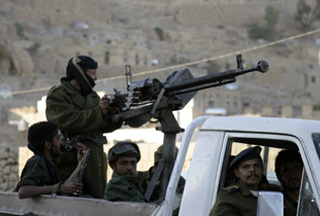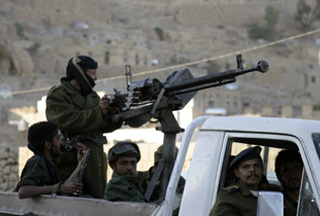 Policemen patrol in the northwestern Yemeni town of Rayda.
Yemen is reportedly preparing for another round of armed offensives against the Shia Houthi fighters, despite the ongoing truce.
The Army is digging trenches, stretched from the capital of Sana'a to the Houthi stronghold of Sa'ada, the fighters said on their website on  Saturday.
The fighters warned that government forces stationed in the Amshia Bsfian region had created a new stronghold in Mount Guide.
Authorities have been trying to "militarize" civilian life and amass servicemen in villages, homes and farms, the Houthis said.
Sana'a officials have been trying to pin the blame for a recent ethnic dispute, in which 11 people including two government soldiers died, on the Houthis, Reuters quoted Friday comments, posted on Arabic news website almenpar.com.
The Houthis also rejected as "false and incorrect," the Interior Ministry's accusations that their men had kidnapped two people in a market, before transferring them to an unknown location. The fighters claimed that the kidnappings were the work of the government.
The fighters defend Yemen's Shias against, what they call, efforts by the Yemeni leadership and neighboring Saudi Arabia to socially, economically, and religiously marginalize the minority group.
Nearly 350,000 people have been displaced and hundreds others killed since 2004, when Sana'a launched the crackdown on Shias.
The government intensified the attacks in August 2009. It was joined by Saudi Arabia in November, with Riyadh claiming that the fighters had been involved in cross-border attacks on the Kingdom.
In February, the Shia fighters offered a unilateral ceasefire with the government to protect civilian lives. The initiative led to a truce.
The alleged plans to reignite the conflict come while Yemen has been experiencing relative calm since the agreement.