Yemen
Yemeni Army Destroys 300 Saudi Tanks, Military Equipment, Fires 20 Missiles in 2 Months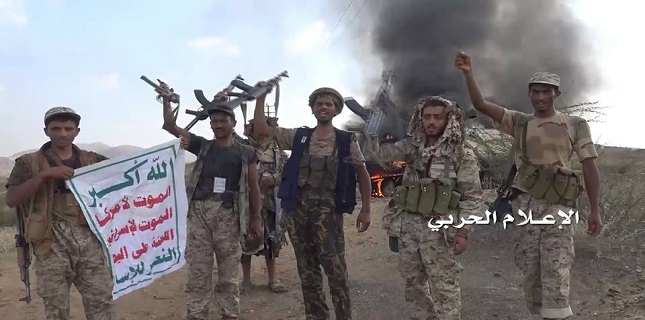 The Yemeni army and popular forces could destroy 300 tanks, armored vehicles and other military equipment of the Saudi-led coalition since the start of 2018, media sources reported, adding that over 20 ballistic missiles have also been fired at the Saudi targets.
Yemen's al-Najm al-Thaqib news website reported on Saturday that 189 military equipment, including 27 armored vehicles and 3 tanks, were smashed in January by the Yemeni army, adding that 4 arms caches of the Saudi-led coalition were set on fire and 174 mercenaries and 72 Saudi military men were targeted by the Yemeni snipers.
It added that 20 armored vehicles and 5 tanks of the Saudi-led coalition were destroyed in February and 125 vehicles of other types were damaged.
Also last month, 3 Saudi arms cache were set on fire and 69 Saudi military men and 145 mercenaries were targeted by the Yemeni snipers.
The website underlined that the Yemeni army has also fired over 20 ballistic missiles at the Saudi targets in the past 2 months.
A senior Ansarullah movement leader warned in December that the capital cities of all the Saudi-led coalition member states are within the range of Yemen's missiles.
Zeifollah al-Shami, a senior Ansarullah politburo member, was quoted by the Iranian media as saying that the movement's missile strike against Abu Dhabi was "a message to other aggressive states".
"Ansarullah which has earlier targeted Riyadh once and Abu Dhabi in the UAE twice is able to target the capital of any other country that is a member of the aggressive coalition and has launched war against Yemen and occupied it," he added.
Saudi Arabia has been striking Yemen since March 2015 to restore power to fugitive President Mansour Hadi, a close ally of Riyadh. The Saudi-led aggression has so far killed at least 15,700 Yemenis, including hundreds of women and children.
Despite Riyadh's claims that it is bombing the positions of the Ansarullah fighters, Saudi bombers are flattening residential areas and civilian infrastructures.
The Saudi-led air campaign against Yemen has driven the impoverished country towards humanitarian disaster, as Saudi Arabia's deadly campaign prevented the patients from travelling abroad for treatment and blocked the entry of medicine into the war-torn country, according to several reports.