Yemen
A protest in front of the UN office in Sana'a with the title "Al-Rumaimeh Mazloumiya and victory"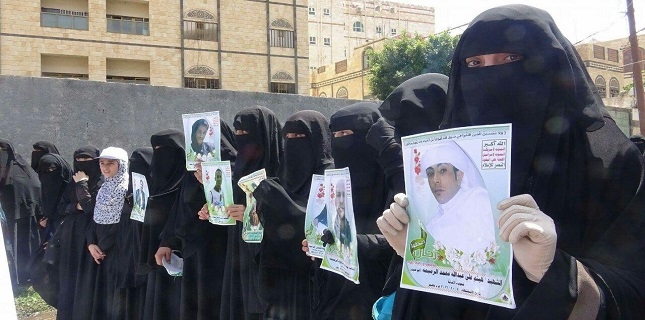 Al-Shuhadaa Foundation for the Rehabilitation and Care of Martyrs' Families organized Wednesday a women's mourning event in commemoration of the second anniversary of the murder of prisoners from al-Rimaimeh family in Taiz governorate in front of the United Nations building in Sana'a.
The statement denounced the ugly methods practiced by the mercenaries of the aggression in the torture of prisoners and forced disappearance of prisoners whose families are yet to know whether they are alive or martyrs.
The statement also called on the United Nations to put pressure on the mercenaries of the aggression for the safety of the prisoners and to allow their families and human rights organizations to communicate with them and to know their situation.
He also appealed to the International Red Cross to do the duty to uncover the detainees and the hideouts of a licensed mercenary
The statement also appealed to local and international organizations responsible for human rights to assume their responsibility and stand firmly against the crimes committed and are still committed by the mercenaries of the Saudi-American aggression and bring them to the legal issue.
More than 16 civilians and prisoners from the province of Taiz, most of them from Al-Rimayma, were subjected to slaughter and looting in the streets of Taiz and their suspension on the public street in Taiz by members of Daqash and al-Qaeda loyal to the Saudi aggression.