Yemen
The US-Saudi blockade and aggression on Yemen has created the world's biggest humanitarian crisis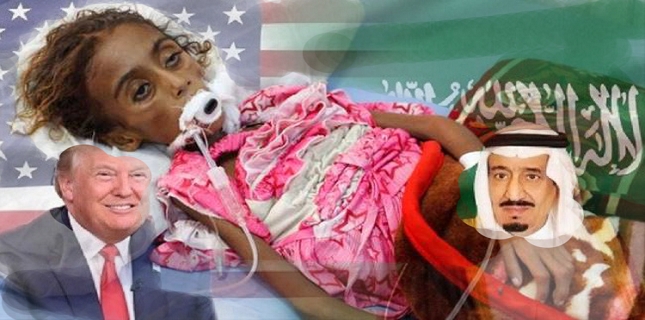 On the humanitarian level in Yemen and the catastrophic consequences of the US-imposed embargo imposed on the Yemeni people, the humanitarian situation in Yemen has reached record levels in the number of victims of "Yemeni" civilians, women and children affected by the aggression and victims affected by the siege.
According to the United Nations in more than one session, Yemen is facing the biggest human catastrophe in the world, especially after the outbreak of cholera, which increased the magnitude of the humanitarian catastrophe in Yemen.
Incredibly, there are record numbers for civilian casualties affected by war and siege. According to UN statistics and the World Health Ministry
She explained that more than 6 million Yemenis are living below the poverty line today due to deteriorating living conditions.
As for the health and the situation of the patients, field sources confirmed that there are more than 500 thousand Yemeni children are threatened to die due to lack of food and relief resources in addition to the situation of chronic diseases, which lead to kidney failure and anemia and numbers tens of thousands and because of the interruption of electricity and prevent aggression from entering The therapeutic materials needed to combat these diseases have become the life of these patients on the brink of completion.
In the same context, the blood of the Kingdom and its allies has not stopped the siege and starvation of the Yemenis, but the death fighters of Saudi Arabia and the coalition forces are still committing mass acts of genocide against civilians around the clock. The international organizations said that the American air force killed more than 13,000 Yemenis and wounded 40,000, the majority of which are children and women, and with the deterioration of health conditions and lack of medicines in the Republic's hospitals increased the gravity of the situation of the wounded especially those with in critical conditions.
The suffering of Yemeni citizens has been exacerbated by the recent outbreak of cholera in 22 Yemeni provinces. In a record time, the death toll from the epidemic has been around 1,800 and around 300,000 people infected every 10 minutes.
The storm led by Saudi Arabia has caused enormous damage to Yemen's infrastructure and economy. It has left innocent Palestinian children and women in Yemen and has prevented the entry of medicines and therapeutic supplies for Yemeni patients affected by air strikes, but has also prevented the entry of medical supplies to combat the cholera epidemic, which is spreading rapidly and dangerously. In this sense, it is possible to say that the Kingdom has made in Yemen the greatest humanitarian crisis known to the times and human history