Yemen
Death toll in Yemen war hits 10,000: UN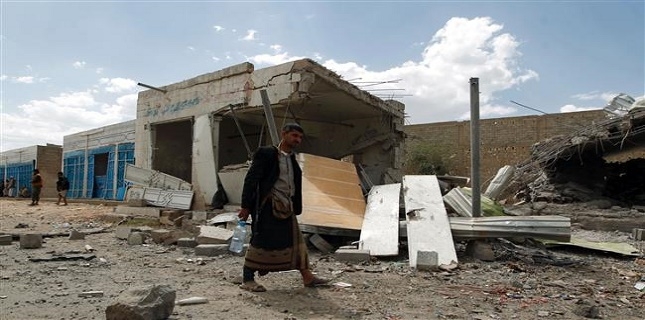 The United Nations (UN) says the death toll from the 18-month Saudi war against Yemen has increased to nearly 10,000.
The UN Humanitarian Coordinator said in a press conference in the Yemeni capital on Tuesday that the toll was based on official records provided by medical facilities in Yemen.
Jamie McGoldrick added that the figure might be even higher as some areas in Yemen lack medical premises, and families there often bury loved ones by themselves.
Internal Yemeni sources had previously provided the same number for the casualties in the Saudi war.
The news comes as Saudi Arabia continues to pound Yemen in its war of aggression.
On Tuesday, Saudi aerial attacks hit a civilian vehicle in the Razih district in the northwestern province of Sa'ada, leaving three people dead and one injured.
The Saudi warplanes also bombed a gas station in the districts of Sahar and Baqim as well as the Kahlan military base in Sa'ada Province.
The districts of Nihm and Sanhan in the Yemeni capital of Sana'a were also hit in Saudi air raids.
Saudi jets also pounded several areas across the province of Hajjah in northwestern Yemen.
More air attacks were reported in the province of Ta'izz as well as Hudaydah Province, where the province's airport was hit.
There were no immediate reports of possible casualties in the latter air raids.
The indiscriminate Saudi airstrikes also "mistakenly" hit the positions of the Riyadh-backed mercenaries in the Matun district in the province of Jawf on Tuesday, killing and injuring an unspecified number of them.
Yemeni Ansarullah fighters and allied army units are fighting back the Saudi invaders and their mercenaries.
A number of such mercenaries were killed and injured as the Yemeni forces launched rocket attacks at the militants' positions in the district of Dhubab of Ta'izz.
However, media outlets affiliated to Abd Rabbuh Mansur Hadi, who has resigned as Yemen's president, claimed 16 Ansarullah fighters and seven pro-Hadi militants were killed in the clashes in Ta'izz.
Saudi Arabia has pounded Yemen almost daily since March 2015. The offensive was launched to restore Hadi — a Saudi ally — to power.
In retaliation for the Saudi assaults, the Yemeni army also fired a Qaher 1 ballistic missile at the Abha regional airport in the Saudi region of Asir early on Tuesday, according to Yemen's al-Masirah website.
However, the Yemen 24 news website cited the Saudi defense ministry as claiming that the army intercepted the missile.