Yemen
Thousands hold nationwide rallies, slamming Saudi aggression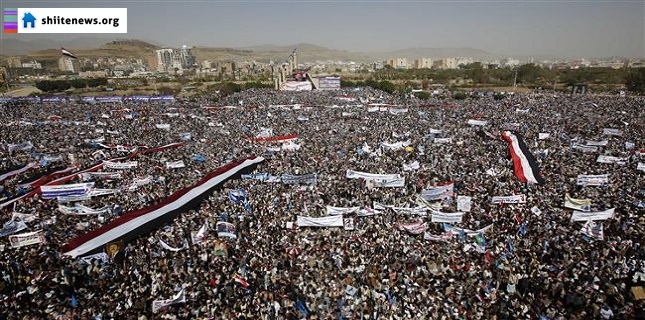 Thousands of people have taken to the streets in Yemen's capital, Sana'a, and other cities to denounce Saudi Arabia's year-long aggression against the impoverished nation.
Protesters gathered at Saba'een Square of the capital city on Saturday to slam the Saudi military campaign that has left about 9,400 people dead since March 26, 2015.
"Together against the tyrannical Saudi aggression," read a large banner in the hand of the demonstrators as Saudi warplanes were flying overhead, reportedly breaking the sound barrier to frighten the protesters.
People also held Yemeni flags and pictures of Abdulmalik al-Houthi, the leader of Yemen's Houthi Ansarullah movement, as a show of unity with the group, which has been the main target of Saudi attacks.
Addressing Yemeni people in a televised speech on Friday, Houthi said the Saudi aggression has failed, adding that it has only led to killing of innocent civilians in Yemen.
"One year on, we look at the outcome of this aggression… It was said to be aimed at helping and serving the Yemeni people. (But) this help came in the form of criminal killings and genocide," Houthi said in the speech, adding, "The aggression and those criminal aggressors have only caused huge damage at all levels in our country and in the rest of the region."
Saudi Arabia's campaign against Yemen, which is apparently meant to restore power to the fugitive former president, Abd Rabbuh Mansour Hadi, has inflicted huge losses on Yemen's infrastructure. Riyadh has also constantly defied international calls for lifting its crippling blockade on Yemen.
The aggression has strengthened the militancy in Yemen, with forces loyal to the Daesh Takfiri group, along with elements linked to al-Qaeda gaining more foothold across the Arabian Peninsula country.
Multiple rounds of negotiations mediated by the United Nations have failed to result in a holding ceasefire. The next round of such talks between the Houthis and representatives of Hadi is slated to begin on April 18.