Yemen
Deadly Blast Hits Mosque in Yemen Killing at Least 25 During Eid Prayers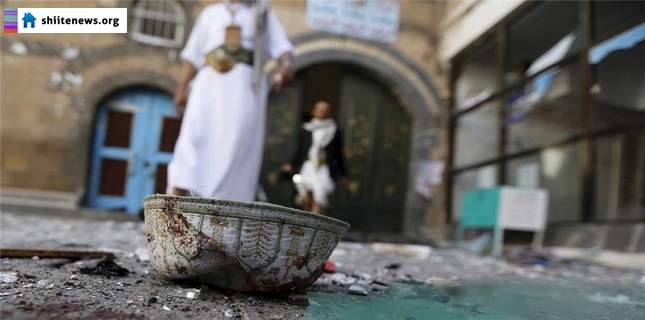 Twin bomb explosions have killed at least 29 people in a mosque during Eid al-Adha prayers in the Yemeni capital of Sana'a, reports say.
According to the Yemeni al-Masirah TV network on Thursday, two terrorists blew themselves up at the al-Balili Mosque in al-Safia neighborhood in Sana'a, leaving the 29 worshipers dead and many others injured.
Reports said that the assailants managed to enter the mosque wearing women's clothes.
No individual or group has claimed responsibility for the bombing, yet.
Over the past months, the Takfiri Daesh (ISIL) terrorist group has conducted several bomb attacks against mosques in Sana'a.
A car bomb went off near Qubat al-Mahdi Mosque in the Old City of Sana'a on June 20, killing three people and injuring seven others. The bombing also inflicted damage on the Shia mosque and nearby buildings. On July 17, several blasts targeted three mosques as well as the political office of the Houthi Ansarullah movement in Sana'a, killing at least 31 people.