Yemen
Yemeni People Demand Int'l Investigation of Saudi War Crimes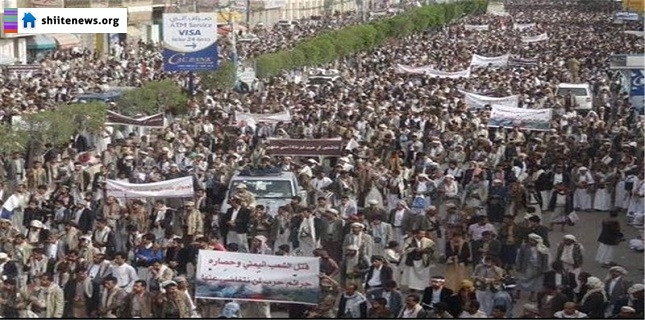 A huge crowd of Yemeni demonstrators called after rallies in capital Sana'a for immediate international investigation into the crimes committed by Saudis and their allies in a devastating war they have waged against Yemen.
In a communiqué after the Friday rallies, titled "We stand together against invasion", demonstrators condemned the "barbaric" Saudi-led attacks on their country and the siege the aggressors have laid to them.
Ralliers also demanded that any government or individual, either local or foreigner, that has been involved in the war on Yemen directly or indirectly be brought to justice.
They further voiced support for any initiative to lodge a complaint against those involved in the war on Yemen, according to state news agency, Saba.
The demonstrations, following Friday prayers, came as the death toll from a recent Saudi air strike in the province of Sa'ada has risen to 52, most of them women and children.
On March 26, Saudi Arabia and some of its Arab allies began to launch deadly air strikes against the Houthi Ansarullah movement in an attempt to restore power to the fugitive former President Abd Rabbuh Mansour Hadi, a close ally of Riyadh.
According to Yemen's Freedom House Foundation, the Saudi airstrikes have claimed the lives of nearly 4,000 Yemeni people so far while more than 7,000 others have been wounded, most of them civilians.
Meantime, the Office of the High Commissioner for Human Rights (OHCHR) revealed that 2,453 civilians have been injured, among whom 130 were women and 234 children.
Also, the International Organization for Migration (IOM) has launched an 84 million US dollars appeal to address some of the prevalent humanitarian issues, which have been compounded by a resumption of violence since the humanitarian pause ended on May 17.
According to IOM, over 550,000 people have now been displaced by the conflict, with large numbers heading toward the Horn of Africa.