Yemen
Death toll from Saudi airstrikes on Yemen's Sa'ada rises to 42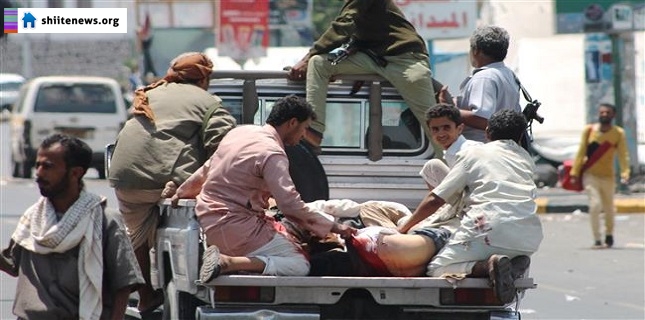 The death toll from the recent Saudi aerial offensive in the northwestern Yemeni province of Sa'ada has risen to 42, including eight children.
According to reports by the Yemeni media, eight more bodies were recovered from the site of the airstrikes in the town of Sahar on Thursday, increasing the number of the victims to 42.
At least eight more people were also injured in the offensive, the reports added.
On Wednesday, Saudi warplanes targeted ten residential buildings in Sahar, killing tens of civilians, including children. The relentless Saudi strikes prevented any rescue operation.
Meanwhile, the Saudi fighters jets on Thursday also pounded targets in the city of Hudaydah, leaving six civilians killed and several others wounded.
The Saudi airborne assaults claimed the lives of two people and injured several others in the southwestern province of Dhamar.
The southwestern city of Ta'izz was also targeted by Saudi warplanes.
Eight Yemenis also lost their lives in Saudi airstrikes on Majz district in Sa'ada.
Elsewhere, the Yemeni army, backed by the fighters of the Popular Committees, including Houthi Ansarullah forces, launched a retaliatory attack on a Saudi military base, destroying two tanks.
The Riyadh regime started its military aggression against the impoverished Arab country on March 26. Saudi Arabia is trying to undermine the Ansarullah revolutionaries of the Houthi movement, now in control of the capital city of Sana'a and several major provinces, and bring back to power Yemen's fugitive former president, Abd Rabbu Mansour Hadi.