Yemen
AL-Bayda tribe pledges allegiance to Ansarullah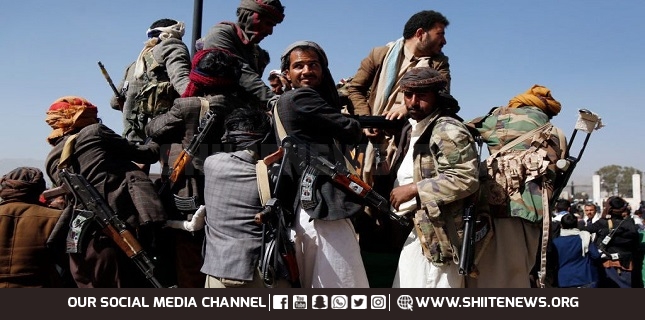 The third Yemeni tribe pledged allegiance to Yemen's National Salvation Government.
A group of Yemeni people from the Al-Bayda tribe entered the country's capital city of Sana'a and pledged allegiance to the National Salvation Government, talking with the head of the Ansarullah Movement, Abul Malik Badre el-Din al-Houthi.
Jabal Murad and al-Joubah tribes earlier announced allegiance to help the Yemeni National Salvation Government.
Gathering in Sanaa, the people from the Al-Bayda chanted "Down with USA" and "Down with Israel," stressing their assistance to the Ansarullah movement against the enemies.
The Yemeni tribes earlier were on the Saudi coalition's side. Yet, with the victories of the Yemeni army and popular committees and their advancement toward the strategic city of Marib, the tribes are coming alongside Yemen's National Government.
Yemeni forces inflicted heavy casualties against Saudi-affiliated troops as they advanced on Marib and al-Jawf, and took control of Saudi military equipment.
Marib province and the Elitemeh region near the Saudi border are strategically crucial due to oil and gas fields.
Saudi Arabia, backed by the US and regional allies, including UAE, launched a war on Yemen in March 2015 to bring the government of former Yemeni president Abd Rabbuh Mansur Hadi back to power and crush the Ansarullah movement.