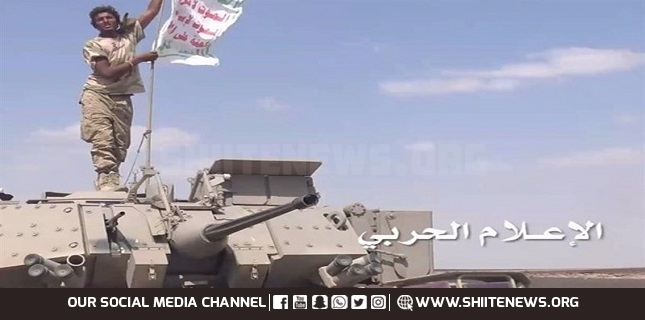 Yemeni army troops and allied fighters from Popular Committees have taken control over new areas near Ma'rib as part of a battle to liberate the city from occupation by Saudi-backed militants.
Lebanon's al-Mayadeen television network on Friday cited an informed source as saying that, "The army and [Popular] Committees took control of the area of Rawdat Jaham on the outskirts of Wadi Zanah between the district of Sirwah and Ma'rib City."
They also seized control of a number of hills and areas that lie to the west of al-Balaq al-Awsat Mountain, the sources said, adding the Yemeni forces also advanced on the front of al-Balaq al-Awsat Mountain, despite intensified Saudi airstrikes.
The sources said that al-Balaq al-Awsat Mountains, which overlook al-Falaj checkpoint at the southern entrance to Ma'rib City, are still under the control of the Saudi-backed militants.
According to the report, the area of al-Tal'at al-Hamra, which overlooks the main road connecting Ma'rib City to Sirwah district, was at their firing range, which means the Yemeni forces could retake the area soon.
Ma'rib, which is located right in the middle of a whole host of other Yemeni provinces, has turned into a focus of the Yemeni army's liberation operations since last year. The province's recapture, toward which much progress has been made, is expected to pave the way for further military victories for Yemen's armed forces.
Last month, Yemen's Defense Minister Mohammad al-Atefi said the capture of Ma'rib City was "a matter of time," noting that the Saudi-led aggression on Yemen had already been defeated and that the aggressors had no choice but to admit defeat.
Yemenis protest against executions of prisoners by Saudi-backed mercenaries
Separately, Yemenis took to the streets of several areas across Yemen to protest against the execution of 10 prisoners by Saudi-sponsored Takfiri militants in the western coastal city of Hudaydah.
The protests took place in the provinces of Hudaydah, Amran, and Dhamar on Friday.
The demonstrators strongly condemned the massacre, which they stressed constituted a violation of international laws. The Yemenis taking part in the protests reiterated their determination to continue the fight against the Saudi-led aggression until they win the war.
Saudi Arabia, backed by the US and regional allies, launched the war on Yemen in March 2015 with the goal of bringing a former Riyadh-friendly regime to power. The war has left hundreds of thousands of Yemenis dead, and displaced millions more. It has also destroyed Yemen's infrastructure and spread famine and infectious diseases there.
Despite Saudi Arabia's continuous bombardment of the impoverished country, Yemeni armed forces and the Popular Committees have grown steadily in strength.