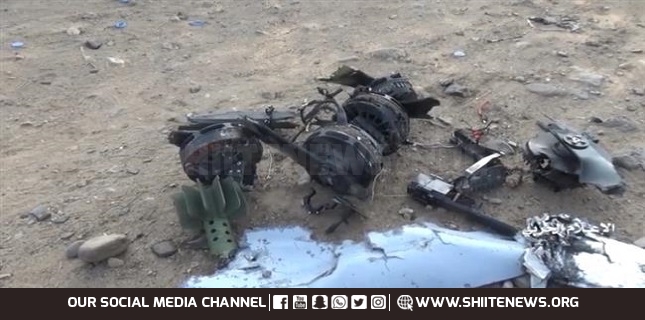 Al-Masira Yemeni Network on Sunday night broadcast a video showing the destruction of a US drone belonging to the Saudi coalition in the central Yemeni province of Ma'rib.
Yemeni Armed Forces spokesman Yahya Saree said Sunday morning that the country's air defense had shot down a US Scan Eagle in the skies of Ma'rib province.
The spokesman for the Yemeni Armed Forces said that the drone had been shot down by a surface-to-air missile, noting that Yemeni forces would spare no effort to fulfill their duty to protect Yemeni airspace and counter the aggressors.
According to Yahya Saree, the hostile drone was active in the airspace of the Al-Mashjah fronts area in the city of Sarwah in Ma'rib province.
The shot down of the drone was recorded by the cameras of the Yemeni armed forces, the video of which was broadcast an hour ago on Al-Masira.
The Yemeni army and popular committees have shot down dozens of Saudi coalition drones since the invasion of aggressors.
The defense power of the Yemeni army and popular committees is increasing day by day, despite the comprehensive siege of the country by the Saudi regime.
Saudi Arabia, with the support of the United States, the United Arab Emirates, and several other countries, invaded Yemen in March 2015. The outbreak of war by Saudi Arabia and its allies in Yemen has so far killed tens of thousands and displaced millions of Yemenis.
The Saudi military aggression has also left the impoverished country of Yemen severely short of food and medicine.
The Saudi regime and its allies have so far failed to achieve their goals in the war against Yemenis. 219