Yemen
Ansarullah Condemns Israeli Crimes Against Worshipers in Al-Aqsa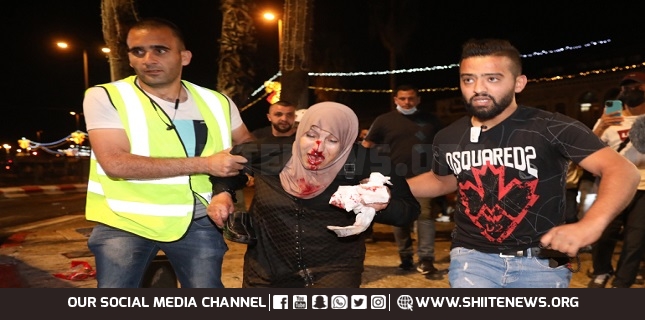 Political Bureau of Ansarullah condemned what the Zionist occupation army was doing against the Palestinian people in Al-Quds and the crime it committed against worshipers in Al-Aqsa Mosque and Sheikh Jarrah neighborhood.
In a statement, the Political Bureau affirmed its principled, faithful and humanitarian stance towards the Palestinian cause and its full support for our brothers in occupied Palestine to confront the Zionist arrogance.
The statement came after the acts of aggression committed by Israeli forces and settlers against Palestinians in Jerusalem al-Quds and a planned raid on al-Aqsa Mosque, the third holiest site in Islam.
The statement said that the Yemeni people, under their wise leadership, and all political forces confirm the centrality of the Palestinian cause, which was proved by the mass protest on the International Quds Day.
The statement called on all Arab and Islamic peoples and all free people of the world to express their condemnation of these crimes and to stand by the Palestinian people and to resist them. It also called on Arab and Islamic peoples to reject the normalization steps taken by some Arab regimes.
More than 200 Palestinians were injured as Israeli forces fired rubber bullets, tear gas and stun grenades at hundreds of Palestinians attending night prayers at the compound.
The clashes took place on the International Quds Day, the last Friday of the holy Muslim fasting month of Ramadan. They continued till Friday night.
The Palestine Red Crescent ambulance service said 88 of those wounded were taken to hospital, adding, one of them lost an eye, two suffered serious head wounds and two had their jaws fractured.
Dozens of worshipers were also arrested by the Israeli occupation forces, according to Wafa news agency.
Tensions have increased in the occupied West Bank during Ramadan, with nightly clashes in East Jerusalem al-Quds' Sheikh Jarrah, which sits near the Old City's Damascus gate.
Numerous families face eviction in the Palestinian neighborhood due to illegal settlement expansion policies of the occupying regime.
Tensions have escalated in Sheikh Jarrah in recent days amid Israeli court rulings that order a number of Palestinian families to evacuate their homes there.
Israel occupied East Jerusalem al-Quds, the West Bank, and the Gaza Strip during the Six Day War in 1967. It later had to withdraw from Gaza but placed the enclave under siege.