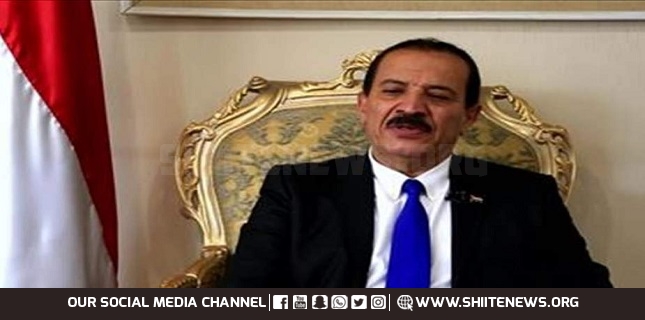 Yemen's Foreign Minister Hisham Sharaf Abdullah has expressed gratitude to the Iranian people and government for standing by the impoverished nation, which has long been suffering from a Western-sponsored war, dismissing accusations that Tehran is prolonging the conflict.
"Iran is a brotherly country which has helped us in several stages. We appreciate the Iranian nation and leaders," he said in an interview with Lebanon's al-Mayadeen television network on Wednesday.
"Yemen's decision-making is up to the country itself… We completely reject any allegation against Iran about prolonging the war," he added.
Abdullah also said the administration of US President Joe Biden is affiliated to the Democratic Party, the same party that first sponsored the Saudi regime and its allies to launch the military campaign against Yemen and appears now to be seeking to make up for it mistake.
Yemen's National Salvation Government is after peace, but it requires trust-building and a halt in the Saudi-led offensive, he emphasized, adding that the airstrikes and the economic blockade on Yemen must stop before any political talks.
Saudi Arabia launched a devastating military aggression against Yemen in March 2015 in collaboration with a number of its allied states, and with arms and logistics support from the US and several Western countries.
The aim was to return to power the former Riyadh-backed regime and crush the popular Houthi Ansarullah movement which has been running state affairs in the absence of an effective government in the country.
The war has failed to achieve its goals, but killed tens of thousands of innocent Yemenis and destroyed the impoverished country's infrastructure. The UN refers to the situation in Yemen as the world's worst humanitarian crisis.
Currently, the Yemeni forces are advancing against Saudi-led coalition mercenaries and allied terrorists in the central province of Ma'rib.
The US State Department claimed that the Houthi's push in Ma'rib is "the action of a group not committed to peace or to ending the war afflicting the people of Yemen."
UN Special Envoy to Yemen Martin Griffiths also said the battle is extremely concerning at a time of renewed diplomatic momentum.
Elsewhere in his interview, the top Yemeni diplomat said Griffiths behaves as if he is representing Saudi Arabia rather than the UN.
He further noted that terrorists are stealing Mar'rib's oil, adding that the Yemenis would not let Daesh and al-Qaeda elements enter the strategic region.
"We want the cessation of the war and the preservation of our oil," Abdullah said. "Sana'a is ready to exchange prisoners … but the aggressor countries do not want to resolve the issue."