Yemen
Protest in Sana'a to condemn of Zionist aggression against Palestinians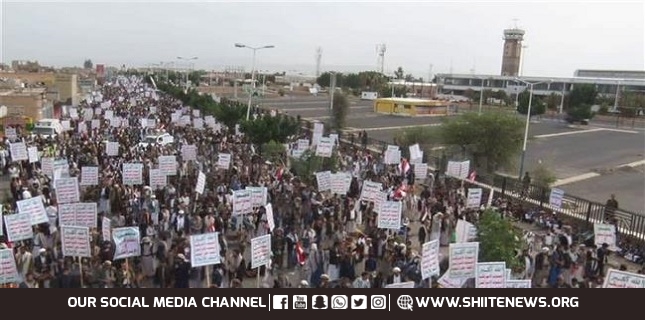 Many protest stands were held today Friday in the capital Sana'a to condemn the crimes of the Zionist aggression against the Palestinian people as well as the massacres and violations of the Saudi-led aggression in the West Coast.
Participants affirmed their full solidarity with the Palestinian people regarding the daily crimes they are subjected to by the Zionist entity.
Ther also affirmed their support for the leader of the revolution, Sayyed. Abdul Malik Al-Houthi, to announce the general exile and jihad in case the Zionist entity is involved in its aggression on Yemen.
The protests' statements denounced the continuation of looting the funds of the Yemeni people, which was enough to pay the salaries of state employees, calling on all to strengthen social solidarity, unite ranks and gather the floor and strengthen the cohesion of the home front to confront the aggression and thwart its plans.
-Sana'a