Yemen
Graduation Ceremony of Police College Cadets in Sana'a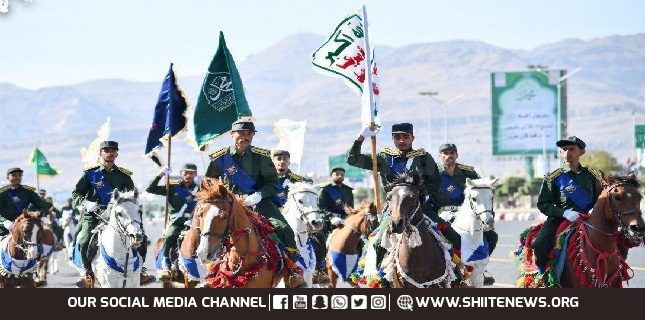 Ministry of Interior held on Wednesday the graduation ceremony of the fourth batch of the special section of the Police College named the "Great Prophet Batch" in Sana'a.
The ceremony was attended by a member of the Supreme Political Council Mohammed Ali Al-Houthi and Prime Minister Dr. Abdul Aziz Saleh bin Habtoor.
Addressing the ceremony, the Prime Minister congratulated the 660 graduates and other successive batches.
He stressed that they are all essential tributary to control the internal front and maintain this security cohesion witnessed by the capital and the provinces run by the Supreme Political Council and the National Salvation Government.
"I congratulate you all as you graduate in conjunction with a spiritual atmosphere and a great day, which is the anniversary of the Prophet's birthday, to be celebrated two days later, God willing," he said.
Bin Habtoor pointed to the stability of these young graduates who have withstood, first in the home front and secondly in educational attainment so that this military security work has value and meaning through behavioral discipline and scientific understanding of all the specialized materials provided by the faculty's professors.
He considered this graduation a sign of victory in this great confrontation faced by Yemenis against the Saudi-Emirati aggression. Which has not stopped for a moment until now to harm the Yemeni people with its warplanes, missiles, mercenaries.
He wished all graduates to find a place in the next struggle with honorable and generous work through their effective contribution in controlling security and consolidating internal stability.
After that, the graduation ceremony began with the cadets oath and handing over flag to the next batch. The ceremony also included the Cavalry Division parade of the Police College.
The ceremony was also attended by Deputy Prime Minister for Security and Defense Affairs Lt. Gen. Jalal Al-Ruwaishan, Interior Ministers Maj. Gen. Abdul-Karim Amir Al-Din Al-Houthi, and representatives from other ministries.