Yemen
Yemenis commemorate Ashura under the slogan of Sacrifice and Victory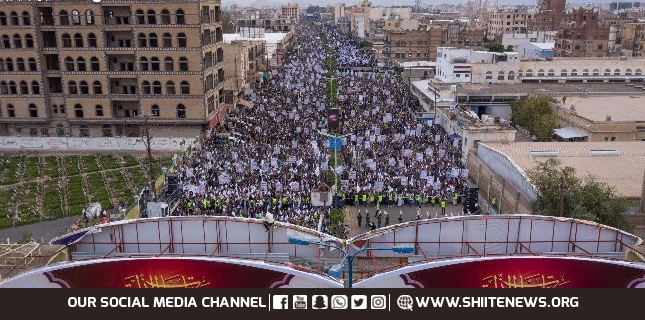 Thousands of Yemenis marched in Sana'a capital on Tuesday to commemorate Ashura under the slogan of Sacrifice and Victory. In a televised speech, Sayyed Abdulmalik Al-Huthi delivered a speech in which he affirmed that our freedom is a religious believe and our pride in our values and dignity. "Our positions on major issues are principled positions starting with the Palestinian cause and against American hegemony and colonialism," Sayyed Abdulmalik said.
The participants affirmed the example of Imam Hussein's approach to the oppressors, starting in life according to the command of God, a nation that commands justice and forbids evil, and steadfastness on the approach that Hussein has followed.
The participants pointed out that the anniversary of Ashura will remain a station to provide lessons of sacrifice for the sake of truth and will not allow oppressors to spread misguidance and injustice in the nation.
Participants in the event gave messages to the US-Saudi aggression and mercenaries that we are on the path of Imam Hussein, who taught us to sacrifice ourselves for the sake of God and in order that the oppressors can not.