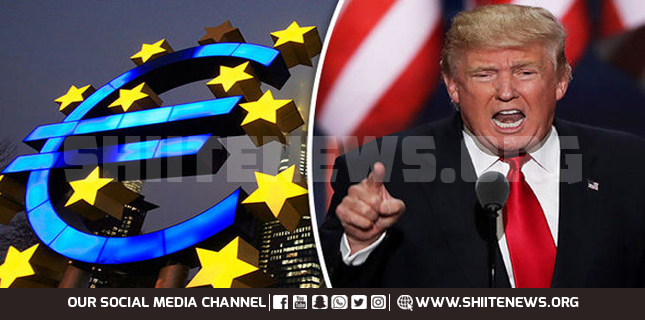 Shiite News Monitoring Desk
European Union continues to remain silent with no reaction to President Donald Trump scathing attack on Europe.
US President Trump said that Europe "treats us worse than China." Trump had also said that EU antitrust chief Margrethe Vestager 'hates the United States perhaps worse than any person I've ever met.'
Speaking to Fox on Wednesday, President Trump said European nations were set up to take advantage of the United States.
Furthermore, he said that they (EU) have worse trade barriers than China.
European nations were set up to take advantage of the United States.
And Trump also signaled that he is in more of a mood for rapprochement with Beijing than with Brussels.
Although he praised European Commission President Jean-Claude Juncker he detested Vestager, a key member of Juncker's team. Because she has taken on landmark cases involving Google and Apple.
Moreover, he cited EU have a woman whose name he won't mention.Further, he said, she's actually considered to take Jean-Claude's place … she hates the United States perhaps worse than any person I've ever met.
Most importantly, Europe makes it almost impossible to do two-way US-EU business.
Trump also said that what she does to US. She's suing all our companies. We should be suing Google and Facebook, and perhaps we will.
Europe, he said, makes it "almost impossible to do two-way business," adding that "Europe treats us worse than China. I don't even say they're wrong, but it's unfair to us.
He also returned to a familiar theme that European members of NATO don't pay their fair share.
Moreover, he said that US pay for close to 100 percent of NATO, people don't know that.
He referred that Germany doesn't pay what it's supposed to pay. Out of the 28 [sic] countries, seven are paid up. I got them to pay last year $100 billion more and Secretary [-General Jens] Stoltenberg will tell you.
For US President Stoltenberg is his biggest fan in the whole world who goes around saying If it wasn't for President Trump, we wouldn't even have NATO.'"
EU silent Trump remarks