World
Protest rally in Nigeria called immediate release of Sheikh Ibrahim Zakzaky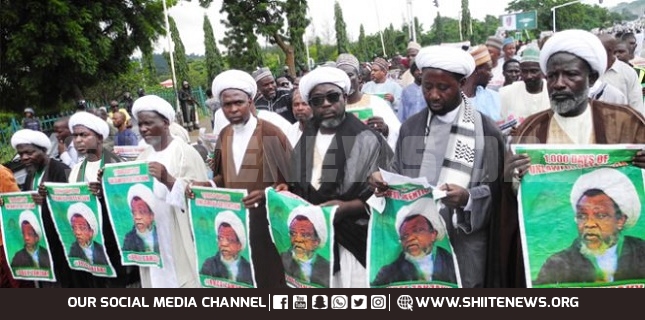 Hundreds of people have staged a fresh protest rally in Nigeria to voice their support for prominent Muslim cleric Sheikh Ibrahim Zakzaky, who has been held in detention for more than three years, and demand his immediate release.
Supporters of the Islamic Movement in Nigeria (IMN) took to the streets in the capital Abuja on Tuesday, carrying images of the 65-year-old cleric and chanting slogans in his support.
Zakzaky, the leader of the IMN, has been held in detention since December 2015 and was charged just in April 2018 with murder, culpable homicide, unlawful assembly, disruption of public peace and other accusations. He has pleaded not guilty.
In 2016, the Federal High Court of Nigeria ordered his unconditional release from jail following a trial, but the government has so far refused to set him free.
The top cleric lost his left eyesight in a raid which was carried out by the Nigerian army on his residence in the northern town of Zaria in December 2015.
During the raid, Zakzaky's wife sustained serious wounds too and more than 300 of his followers and three of his sons were killed. Zakzaky, his wife, and a large number of the cleric's followers have since been in custody.
Last August, Britain-based rights group Amnesty International accused Nigeria's government of carrying out unlawful arrests and practicing "enforced disappearance," calling on Abuja to clarify the fate of hundreds of jailed Shia activists.
The organization further stated that the fate of at least 600 members of the Islamic Movement in Nigeria remained unknown since their arrest in 2015.
"The Nigerian government has used enforced disappearance as a longstanding tactic to silence critics and instill fear in civilian populations," Amnesty International Nigeria Director Osai Ojigho said at the time.
She added, "Enforced disappearance is an instrument of intimidation that grossly violates human rights. It is unacceptable and must stop."