World
Macron urged to press Saudi crown prince into ending Yemen conflict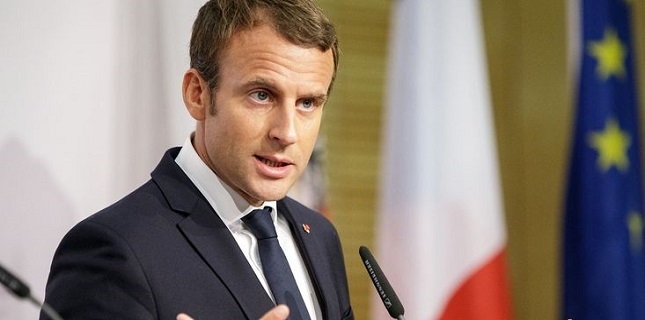 Ten human rights groups have urged French President Emmanuel Macron to press Saudi Crown Prince Mohammed bin Salman to end the aerial and naval blockade on Yemen and working out a diplomatic solution to the devastating three-year-old conflict in the impoverished Arab country.
"The bombing of civilians in Yemen must stop and we call on all sides in the conflict to stop them immediately," Anne Hery of Handicap International said on Wednesday.
She added, "Ahead of the visit of Crown Prince Mohammed, President Macron has a choice: protect civilians or sell weapons."
Jonathan Cunliffe, Director of Middle East operations for Action Against Hunger, also said, "France has to have a larger discussion not just about the sale of arms, but the blockade of this country. That strategy hasn't worked."
The de facto Saudi ruler is arriving in Paris on Sunday for a three-day visit, and French lawmakers and rights groups expect Macron to suspend weapons sales to Saudi Arabia and the United Arab Emirates (UAE), which are involved in the ongoing bombardment campaign against Yemen.
"Prince Salman deserves neither the Legion d'Honneur nor the red carpet, he deserves sanctions," Benedicte Jeannerod, director of Human Rights Watch in France, said.
Late last month, legal non-governmental organization Droit Solidarite and Aser, which specializes in armament issues, argued that France was breaking international law by providing weapons for the Saudi-led aggression against war-ravaged Yemen and subsequently committing war crimes there.
Lawyers acting for the two NGOs have already posted a letter to the office of Prime Minister Edouard Phillipe demanding the export licenses to Saud Arabia and the UAE to be suspended.
Aser and Droit Solidarite will take their case to France's highest legal authority, known as the Conseil d'Etat, in case the Paris government fails to meet their May 1 deadline.
Their action comes as Norway has suspended arms exports to the United Arab Emirates.
The German government has also said that it would "immediately" stop weapons exports to anyone participating in the war in Yemen.
France, which is the world's third-biggest arms exporter, has sold Caesar artillery guns and ammunition, sniper rifles and armored vehicles to Saudi Arabia and the UAE.
The Yemeni Ministry of Human Rights announced in a statement on March 25 that the Saudi-led war had left 600,000 civilians dead and injured since March 2015.
The United Nations says a record 22.2 million Yemenis are in need of food aid, including 8.4 million threatened by severe hunger.
A high-ranking UN aid official recently warned against the "catastrophic" living conditions in Yemen, stating that there was a growing risk of famine and cholera there.
"After three years of conflict, conditions in Yemen are catastrophic," John Ging, UN director of aid operations, told the UN Security Council on February 27.
He added, "People's lives have continued unraveling. Conflict has escalated since November driving an estimated 100,000 people from their homes."
Ging said cholera had infected 1.1 million people in Yemen since last April, and a new outbreak of diphtheria had occurred in the war-ravaged Arab country since 1982.