World
Nigeria: Magistrate court Zaria summarily sentences 3 to nine years each for being Shi'ites, protesting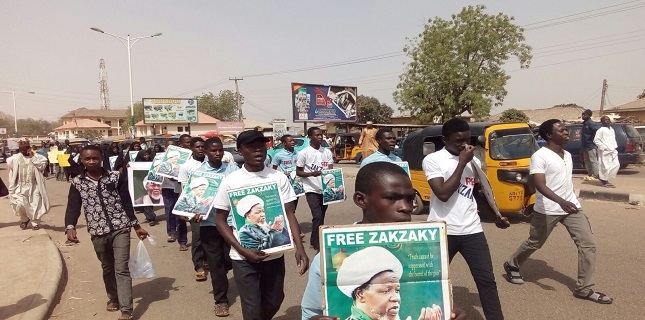 Three members of the Islamic Movement in Nigeria were summarily tried by a Chief Magistrate Court, Zaria and sentenced to nine years imprisonment each for being Shiites and participating in a procession.
Kasim Mohammed, a 31-year handset repairer, Bello Shehu, a 27-year builder and Ahmed Suleiman, a 26-year driver were arrested on 27th of February, 2018 soon after a free Zakzaky procession in Zaria city and were charged and sentenced the following day, all within a total of 24 hours.
The charges were those of alleged criminal conspiracy, unlawful society and assault on security personnel(s) as written in their First Information Report (FIR). The trio were not given the opportunity of having legal representation.
According to the Investigating Police Officer (IPO), Sgt Khegh Cyril, with number 345212, the police received a distress call that members of Shiet group in their large numbers were protesting at Kofar Doka Zaria, and they drafted a team of policemen to the scene, where they met another team of Army. That in the process of processing, the three and several others at large were beating the security personnel(s) and that they were arrested in the process.
Free Zakzaky procession
The one paragraph court proceedings indicated that the three "confessed that they are Shiites and were protesting for the release of their master and their member, one Alzakzaky, who is in detention." The Chief Magistrate therefore sentenced them to nine years each.
The three have been transferred to Kaduna Convict Prison.
One would have thought such travesty of justice occurs only in the script of Nigerian movies. But this is for real!