World
Philippine defense chief declares end to Daesh siege on Marawi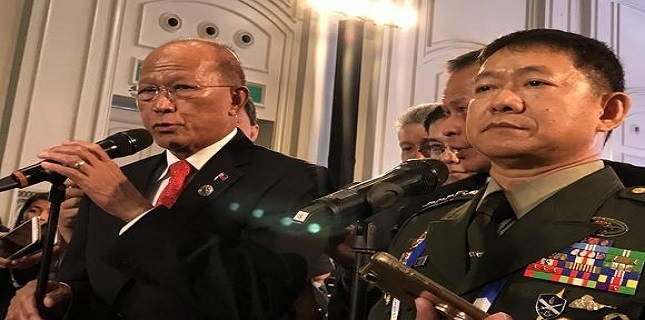 The Philippine defense chief has declared an end to the five-month operation aimed at liberating the southern city of Marawi, which was under a siege by Daesh-affiliated militants.
Speaking at an annual meeting of Southeast Asian defense ministers on Monday, Philippine Defense Secretary Delfin Lorenzana said, "There are no more militants inside Marawi City."
Lorenzana said that Filipino troops recovered 42 bodies of the last group of militants in two buildings and a mosque in the area.
"Those are the last group of stragglers of Mautes (Takfiri militant group) and they were caught in one building so there was a firefight, so they were finished," he added.
He explained that the last hostages held by the militants had been released earlier.
Military spokesman, Restituto Padilla, also confirmed that there were "no more terrorists" in Marawi, but said there was still gunfire in the city, without elaborating.
Reuters also reported that automatic gunfire and artillery could be heard throughout Monday morning in the city.
Marawi's liberation was first announced by President Rodrigo Duterte on October 17, but the military said at the time that it was still fighting a dwindling band of militants in the city.
Prior to Duterte's announcement, the Philippine army had killed two top Daesh terrorist commanders, Isnilon Hapilon and Omarkhayam Maute, during a raid in the embattled city.
Hapilon, the top Daesh leader in Southeast Asia, had, according to the army, joined forces with the Maute militant group to plan the Marawi rampage, which sparked fears of the notorious terror group gaining a foothold in the region.
Filipino troops were engaged in a battle with hundreds of militants, who had occupied Marawi on May 23 after taking control of the city's central business district. They ransacked banks and shops, including gun stores and looted houses.
The violence has displaced hundreds of thousands of residents and left at least 1,131 people dead, including 919 militants and 165 soldiers and police officers.
The military said it rescued at least 1,780 of the hostages seized by the militants. Army commander Romeo Brawner said at a news conference on Sunday that they freed the final group of 20 captives overnight.