World
Multiple casualties in attack on Burkina Faso restaurant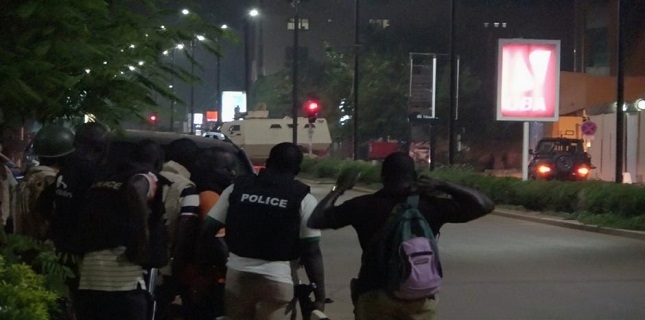 At least 18 people have been killed and nine others wounded after suspected Takfiri terrorists opened fire on people at a restaurant popular with foreigners in Burkina Faso's capital, officials say.
The assailants raided the upscale Turkish restaurant—Aziz Istanbul—in Ouagadougou late Sunday evening and started shooting at people there, according to the officials.
Witnesses said people started running out of the café in terror, while police and paramilitary forces engaged in gunfire with the terrorists.
A woman, who witnessed the raid, said she was in the restaurant celebrating her brother's birthday, when the shooting started. "I just ran but my brother was left inside."
"This is a terrorist attack," said Communications Minister Remis Dandjinou.
He said the victims came from several foreign nationalities, including at least one French and a Turkish national.
Dandjinou said on state TV on Monday that security forces had killed three suspected Takfiri attackers.
However, he revised the number of the killed attackers down to two after the security operation came to an end later in the day.
"The operation has ended," but a search is underway around the restaurant, the minister told a press briefing.
The Prosecutor's Office has opened an investigation into the attack. Defense and security forces also established a security perimeter and closed all roads to the Ouagadougou International Airport.
The attack brought back memories of the January 2016 massacre, which saw assailants launch an attack on a hotel also popular with foreigners and a café in the capital, killing at least 30 people from 18 different nationalities.
The terrorists, who were of a foreign origin, also took 170 people hostage. The Takfiri al-Qaeda terror group claimed responsibility.
Burkina Faso, one of the poorest countries in the world, shares a northern border with Mali, which has long been battling Takfiri al-Qaeda terrorists.